Introduction
In this post we summarize the 10 best stock brokers in India ranked by client base.
A stock broker is someone who buys and sells stocks (and other securities) for clients through a stock exchange (or OTC). Brokers charge a small fee for their service called 'brokerage'.
Shares of public companies are traded in stock exchanges, such as BSE or NSE in India. You need to be a Trading Member of an exchange to trade in stocks in that exchange. Becoming a member is difficult, as it has complex eligibility criteria, capital requirements and fees[1] which is not viable for retail investors. Brokers work as intermediates who by becoming members of stock exchanges trade on behalf of their clients.
Types of stock brokers
There are two types of brokers: the Full Service Providers (the expensive ones) and the Discount Brokers (the inexpensive ones).
Full Service Brokers provide advisory and trading facilities, whereas discount brokers offer trading services only. This is why Full Service Brokers are more expensive than the discount brokers. Although the lines are increasingly getting blurred each passing day.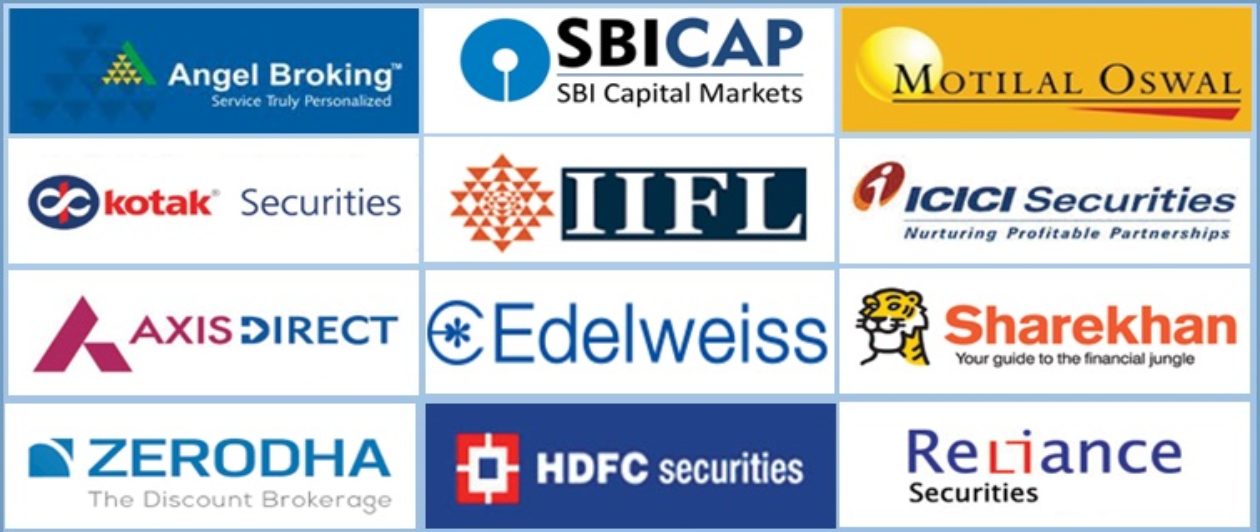 Best Stock Brokers in India
As of 31st December 2017 there were 254 brokers in India. Out of them, the top 20 brokers in terms of number of unique clients are as follows:
20 best stock brokers in India [2]
1 ICICI SECURITIES LIMITED 752138
2 HDFC SECURITIES LTD. 550995
3 SHAREKHAN LTD. 493533
4 ZERODHA 411796
5 AXIS SECURITIES LIMITED 368030
6 KOTAK SECURITIES LTD. 342482
7 ANGEL BROKING PRIVATE LIMITED 330813
8 MOTILAL OSWAL SECURITIES LTD. 283519
9 KARVY STOCK BROKING LTD. 225191
10 INDIA INFOLINE LTD. 211827
11 SBICAP SECURITIES LIMITED 209353
12 GEOJIT FINANCIAL SERVICES LIMITED 177672
13 RELIGARE SECURITIES LTD. 139885
14 RELIANCE SECURITIES LIMITED 117532
15 EDELWEISS BROKING LIMITED 98014
16 SMC GLOBAL SECURITIES LTD. 96741
17 NIRMAL BANG SECURITIES PVT. LTD. 90699
18 VENTURA SECURITIES LTD. 79693
19 ANAND RATHI SHARE AND STOCK BROKERS LIMITED 75077
20 TRADEBULLS SECURITIES § LTD. 64441
ICICI Direct
ICICI direct is a Full Service Provider. Being subsidiary to ICICI Bank, they offer 3-in-1 account, which is a combination of banking, demat and online trading account all in one.
ICICI Direct has a complicated brokerage model, with plans varying from as high as 0.75% to as low as 0.12% in the cash segment. The Fixed Brokerage Plan charges 0.55% in cash irrespective of turnover.[3]
However, there is a wide range of options to choose from. Resident Indians opt from 3 flavours: 1. I-Secure Plan (Fixed rate), 2. I-Saver Plan (variable rates) and 3. Prepaid. NRIs have a separate plan. [4]
Onetime account opening charges as Rs 975.[5]
Their platform is one of the oldest in the market and very stable. In addition to direct equities, they offer a wide range of financial products and other asset classes to investors. But the brokerages are high and eats away the profits.
HDFC Securities
HDFC securities is also a Full Service Provider, and offer 3-in-1 account. They started operation in 2000. Along with stock broking services they also work as distributor of various financial products.
Compared to ICICI Direct, HDFC Securities have a much simple and marginally cheaper brokerage structure. Brokerage rates are 0.5% for cash segment, 0.05% in Futures & Intraday and higher of 1% of premium or Rs 100/lot in options segment. [6]
Account opening charges are Rs 1299 [7], and Annual Maintenance Charges (AMC) are Rs 750 yearly, for holdings above 2 lakhs.[8]
Sharekhan
Sharekhan is the largest standalone retail brokerage in India and third largest overall in terms of customer base after ICICI Direct and HDFC Securities. It started operations in 2000 and presently a fully owned subsidiary of BNP Paribas.
Brokerage charges are 0.5% for cash, 0.1% in Futures & Intraday and Rs 100/lot in options (this data is based on external sources).[9]
Their investor education resources used to be very unique fifteen years back, although now it has lost its sheen in face of competition.
Zerodha
Zerodha is the largest discount brokerage in India in terms of customer base, and also claim to be the first discount broker in the country. They started operations in 2010 and has grown rapidly becoming the fourth largest broker in India overall.
Zerodha charges zero brokerage in equity delivery, Rs 20 for equity intraday & futures, and Rs 20 flat for options.[10]
Annual Maintenance Charges are Rs 300 (for demat, zero for trading).[11]. Account opening charges are Rs 300 for equity and Rs 200 for commodity accounts.[12]
They have some wonderful innovative products such as smallcase which offers customizable screeners and thematic investment portfolios. Smallcase is available to customers on subscription basis, charges are Rs 100 per month.
Zerodha does not offer client funding (or margins) – you are expected to leverage your own resources. You can see this as negative from personal short term cash flow management perspective while trading or investing. Although for long term sustainability of the corporation, this is a positive.
Axis Direct
Axis Direct is the flagship brand of Axis Securities, subsidiary of Axis Bank offering retail broking services.  Company started retail broking operations in 2010.
Brokerage plans are very simple to understand. The Fixed Plan charges 0.5% for cash, 0.05% for intraday & futures and Rs 10/lot in options segment. Account opening charges are Rs 999 for Fixed and zero for the higher options.[13]
Annual maintenance charges are Rs 650 for Axis Bank customers and Rs 2500 for others. There is no maintenance fee applicable on the first year.[14]
Kotak Securities
Incorporated in 1995, Kotak Securities represents the brokerage and distribution business of Kotak Group. It has 1128 branches including franchisees and satellite offices spread across 352 cities in the country.
Their brokerage structure is uncomplicated. Fixed Brokerage charges are 0.49% for cash, 0.049% for futures and Rs 300/lot for options.[15]
Account opening charges are Rs 750, and annual maintenance charges are Rs 600.[16]
Angel Broking
Angel Broking started stock broking operations around 1998 when they gained membership to NSE. Company offers depository services, commodity trading, investment advisory services, wealth management, MFs, IPOs & PMS in addition to broking.
Angel is one of those Brokers where the brokerages are hard to figure out. Their website talks at length about movie ticket discounts, OLA discounts, Flat discounts, and other discounts, but not the exact brokerage.[17]
External sites suggest that the brokerage is variable and actually is a function of initial margin provided and transaction mode – online vs offline. There are 4 types of accounts – 1. Classic 2. Preferred 3. Elite & 4. Premier – with classic having the maximum brokerage rates and minimum margin requirements and Premier the reverse. Rates in the cash segment seem to vary anywhere between 0.128% and 0.4%. [18]
Motilal Oswal
Motilal Oswal started operations in 1987 after acquiring membership of BSE. In addition to stock broking, they currently offer a host of financial services including advisory, PMS, wealth management, private equity, MF, home finance, investment banking among others.
Once again, I was unable to find the charges from their website. External sites suggested a rate of 0.5% in cash, 0.05% in futures & intraday and Rs 25/lot in options.[9]
External website also suggests onetime account opening charges of Rs 1000 and annual maintenance charges of Rs 400.
Broker website: www.motilaloswal.com
Karvy Stockbroking
Karvy forayed into stockbroking in the mid 1990s.
Brokerage charges as cited by external sites are 0.3% in cash, 0.03% in futures & intraday and Rs 30 per lot in options. AMC fees are Rs 400 per year. [9]
India Infoline Ltd
India Infoline is a Full Service Provider.
Brokerage charges are 0.5% in cash, 0.05% in futures & intraday and higher of 1% and Rs 100 per lot for options.
AMC fees are Rs 300. Onetime account opening and Demat charges are Rs 750 & Rs 555.[9]
Conclusion
Majority of the best stock brokers in India in terms of client base are primarily Full Service Providers barring one exception – Zerodha. But this is no surprise, as discount brokerage as a concept is relatively recent. The advisory services offered by the Full Service Providers has been performing a balancing act – of trying to maximise client returns which requires optimal transactions, along with maximising brokerage income which requires maximum transactions. This self conflicting nature of their job often makes their services less effective. Additionally, most of the Full Service providers offer default rate of 0.5% for delivery which is high and eats away profits. In this context, opting for large discount brokers combined with Independent Advisors might be a more meaningful alternative for small investors.
Also Read:
Should you invest in Index Funds?
10 best dividend paying stocks in India
Historical returns of Stock, Gold & FD in India
How large should your retirement corpus be?
Indian stock market crash – correction or bear market?
Reference
1. Bombay Stock Exchange – Membership FAQs
2. Who are the largest brokerage firms in India
3. ICICI Direct – Fixed Plan
4. ICICI Direct – Brokerage Plans
5. ICICI Direct – Charges
6. HDFC Securities – Brokerage
7. HDFC Sec – Account Opening Charges
8. HDFC Sec – Tarrif Rates
9. www.chittorgarh.com
10. Zerodha – charges
11. Zerodha – Policies and procedures
12. Zerodha – Account opening process
13. Axisdirect – pricing
14. Axisdirect – demat account fees & charges
15. Kotak Securities – Fixed-Brokerage
16. Kotak Securities – Brokerage Options
17. Angel Broking – current offers
18. www.indiansharebroker.com – Angel Broking-brokerage charges