Vijay Kedia is an Indian investor hailing from Kolkata. Kedia and his company – Kedia Securities Pvt. Ltd.,are the largest shareholder (after the promoter) in several listed companies. He has been described by the Economic Times as a "market master"(1). In 2016 Vijay Kedia was conferred with a Doctorate degree for Excellence in The Field of Management.
Early life
Vijay Kedia, born in a marwadi family of stockbrokers in Kolkata, he was a fifth generation in the trade. He started trading at 14 initially using family accounts. In 1978 when Vijay was 19 years old, his father passed away and he was forced to enter stock broking business to support his family.
Kedia however didn't like the broking and so after three years left his family's stock-broking business to focus completely on trading. For the next 8 years, he traded in Kolkata without much success. Not earning enough from trading, Vijay also started side business of supplying tea.
During this period in Kolkata, at the insistence of one of his friends S P Modi, Vijay started to allocate portion of his capital in long-term investing, mostly in stocks recommended by Modi. These investments proved to be successful and Vijay started realizing the potential of long term investment.
The plunge
In 1990 he came to Mumbai and switched to long-term investing based on fundamental analysis. Not having enough money to spare, he had to stay as PG changing places multiple times to save money.
He had just Rs.35,000 for invest, which he invested entirely in a single stock, Punjab Tractors. The stock went up to 3 times (6 times by other accounts) in three years.
Vijay sold the stock (in 1992-93) and put entire capital in ACC at the price or Rs.300. The stock didn't move for first year but went up to 10 times next year. He sold ACC at a price of Rs.3000 and bought an own house in Mumbai.
After that there was no looking back for Vijay Kedia. In 2004 and 2005 he identified and invested in three such shares – Atul auto, Aegis logistics, Cera sanitaryware. All of them went on to become huge multibaggers over the next 10-12 years.
Investment Strategy
Kedia describes his investing strategy using SMILE principle – which translates into Small in size, Medium in experience, Large in aspiration and Extra-large in market potential.
SMILE principle
On his investment strategy, Kedia said: "One should scout for companies which have good management… Find a very good management, a very honest management and see the product in which the management is going to grow, going to outperform its peers and the economy… invest in those companies for the next 10-15 years, and you cannot go wrong." Bet big and ride through tough times is his advice. While luck plays a big part in stock market investments, knowledge, courage and patience are the cornerstones according to him. He has been 100 percent invested for the past 30 years of his investing career.
Kedia prefers mid-cap stocks to large-caps as the former tends to be part of an under-researched universe. Ideal stocks for him are those that are on a growth trajectory and have a scalable business model. He believes in having a concentrated portfolio and taking large bets when convinced with an idea. In terms of investment time-horizon, he believes investors should have long-term vision of minimum 5 years and usually more (10-15). He also warns that investors should be prepared for 20-25% cuts at any time due to unforeseen reasons.
3 must have qualities for investors
Vijay believes that investors must have the following 3 qualities to succeed.
Knowledge: To find quality stocks one has to read and there is no shortcut. If one doesn't have reading habit he can't be a successful investor.
Courage: Equities are risky assets where you can lose your capital. Fear of losing money prevents people from investing in the market or restrict their investments to small amount. Vijay says when you find something good to invest, you should invest a meaningful amount in it.
Patience: Stocks can take years to perform, which is why investors must have the patience to hold the stock at least for 5 years.
10-Point formula for success in stock markets
(from IIBM keynote address)
Never be dependent on the stock market for your livelihood or day-to-day living. Have an alternative source of income. This will insulate you from the volatility of the market and give you holding power.
Never buy a stock except after thorough study into the stock's fundamentals. The stock market is not a gamble. You must also be fully aware of news and developments that affect your stocks and learn to "connect the dots".
Invest according to your risk profile. Ensure that other asset classes also have an allocation. This will again insulate you from the risk that equities carry and give you holding power.
Never trade in stocks. Never use borrowed funds to buy stocks. It is extremely risky and can lead to "instant death". Less than 1% of the trading population makes money. Also, trading requires special aptitude which a normal person lacks.
Invest for a minimum period of five years. "Rome was not built in a day". It takes time for companies to mature and grow.
Invest only in the best managed companies and don't worry about day-to-day volatility in stock prices.
Remember that the "Investment belongs to the market and only the profit belongs to you". In other words, don't get carried away by notions and paper profits.
Book profits periodically. When a stock looks overvalued, don't hesitate to cash in the gains.
Be balanced in your approach. Don't be very optimistic in an uptrend and very pessimistic in a downtrend. Also, never have regrets.
Do good karma and be a good human being. Stock market is a mind game. Good deeds will ensure that your mind is calm and is able to think rationally.
Vijay Kedia portfolio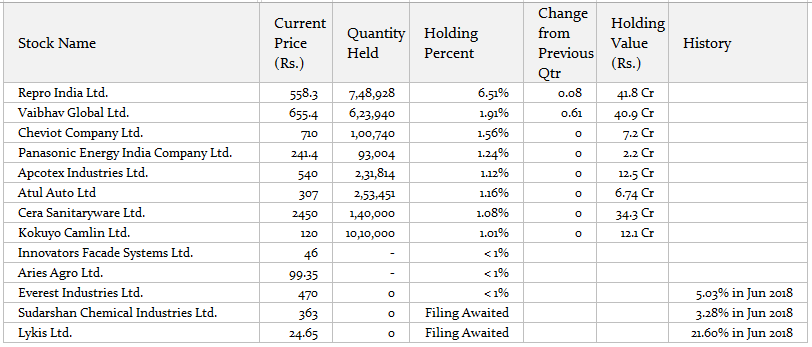 Source: trendlyne.com, annual repots
Vijay Kedia videos
Keynote address at IIMB
Investing song – written, composed and sung by Mr. Kedia