Financial planning & investment advisory are generally misunderstood and under-estimated concepts in India.
In this age of Google, anything we want to learn is just a click away—how to invest, cure a disease or even fly a plane. But think about this—when you have anything beyond a common cold, do you Google the symptoms and medicate yourself?
Similarly, for financial planning and investing, while we may have an idea about the type of investment to own, most of us lack insight and expertise that is best left to professionals.
Financial literacy is poor in India
In a few decades from now, India will have one of the largest elderly population. What is shocking is the level of under-preparedness of Indians for their retirement years. According to a Max Life and Nielsen study, despite 60% Indians not having any retirement plan, 63% feel that they will have sufficient money during their retired years.
Despite the misplaced confidence, financial literacy in India is still extremely poor. 76% of the population is not financially literate, i.e., lack basic knowledge of financial planning, according to a Standard & Poor survey conducted in 2014.
Fig-1. Only 24% Indians are financially literate.  Source: S&P Global Financial Literacy Survey
This is dangerous situation, as lacking a financial plan can scuttle your efforts to save for retirement, help pay for your children's college education, or even buy a home.
5 reasons why financial planning is a must in India (2)
1. Without a plan, it's harder to set or meet financial goals
How much money do you need to save for a healthy and happy retirement? Without a financial plan, you probably have no idea. And how do you accumulate these savings? Again, if you don't follow a financial plan, the odds are likely that you won't meet your retirement goals.
According to the Financial Engines study, people with financial plans save about 10 percent of their salaries toward retirement, while those without save only 6 percent.
Without a financial plan, you are likely to under-achieve your retirement requirements as you do not know the corpus size required and contribution is largely determined by the surplus. This can make a big difference.
Read: How to estimate your retirement corpus using a simple calculator
2. A financial plan can help you rein in your spending
Having a financial plans tells you exactly how much you should save in order to meet your goals. This allows you to re-align your spending pattern and create a balance between expenses and investments.
A basic pillar of creating a financial plan involves tracking where your money goes each month. It's all about creating a household budget that lists the average rupees you spend on everything from utilities and rent, to transportation, groceries, dining out, and entertainment. Once you have these figures, you can prioritise your expenses to adjust any shortfalls required to meet your financial goals.
3. It will help you reach big financial goals
A financial plan will spell out exactly how much money you need to save each month to meet your financial goals — everything from saving enough for a down payment on a home, to buying your first car, to saving enough money to help your children graduate from college without mountains of student loan debt.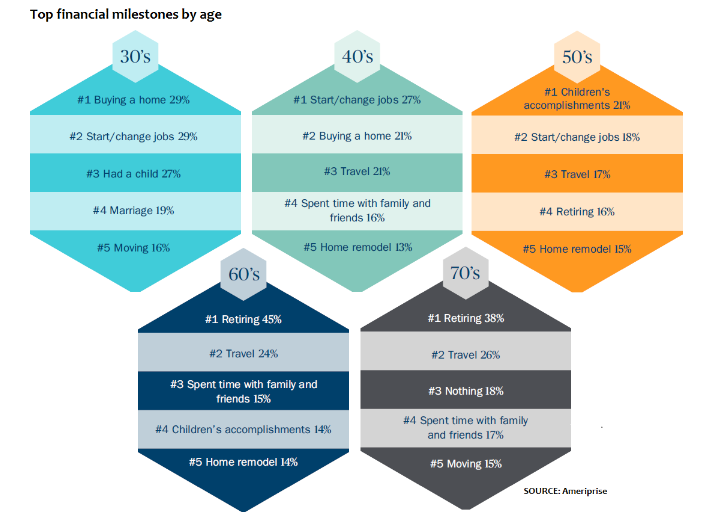 Fig-2. Top financial goals by age. Source: Ameriprise
Read: How to create a goal based financial plan
4. It will help you protect your loved ones
75% of Indians do not have any form of Life Insurance, and those to have are assured only 8% of the protection needed in case of a financial shock following death of the primary earner.
If you died unexpectedly, what financial ills would fall on your children or partner? If you invest in life insurance, you can help protect these loved ones in your absence. Without financial plan, you are almost certain to have inadequate covers, and wrong insurance products, forced on you by unsuspecting agents, that earned them hefty commissions. Quite often these agents are either your friends, neighbours, or even worse, relatives – so you didn't have a choice.
Read: Why you should say NO to ULIP & Endowment Policies
5. You'll be better prepared for a financial emergency
What if you suddenly lost your job? Or suddenly have an illness in the family not adequately covered by insurance. It is essential to build an emergency fund to deal with such exigencies.
According to research 60% of Indians them have less than ₹5,000 in their savings account or emergency fund. Only 2% of Indian males have more than ₹5,00,000 in their savings account while for females this percentage is 5%.*(1)
Building an emergency fund takes time, but if you have a financial plan, you're far more likely to be better prepared.
Fig-3. 57% Indians have less than INR 5,000 in emergency funds. Source: www.dealsunny.com
The right approach to financial planning – Plan for the best, prepare for the worst (3)
Plan for the best; prepare for the worst – is the key to financial success according to a new Ameriprise survey spanning five age groups. The financial firm polled 3,019 adults ages 30 to 79 who have at least $100,000 (INR 72Lakhs) in investable assets.
The bulk of respondents — 95 percent — described themselves as confident in their financial future. Yet 8 in 10 also told that they have experienced a significant setback in the past five years that had a negative effect on their finances. (See chart below.)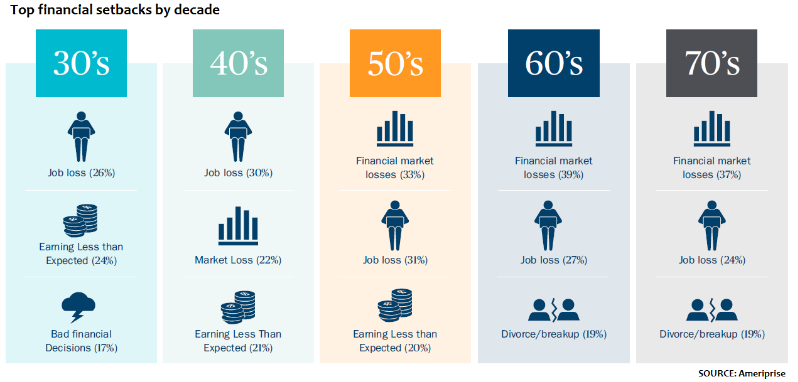 Fig-4. Top financial setbacks by age. Source: Ameriprise.
In the survey, respondents pointed to recent personal milestones that had the biggest impact on their financial situation, from buying a home (the top influencer for 30-somethings) to retirement (notable for those in their 60s and 70s).
Working with an advisor to create a financial plan can help you take steps to work toward big goals, making saving for big ones like retirement or a home down-payment more manageable.
The power of having a plan in place is that You can see what's on the horizon. Not stumbling on it can make a big difference.
Conclusion
Financial literacy in India is very low, with 76% of the population lacking basic knowledge of financial planning.
Yet misplaced confidence is preventing us from giving the discipline of financial planning and investment advisory the respect it deserves.
For a country that is expected to have one of the largest elderly population in a few decades, this can be a dangerous situation. Inadequate social security and migration towards nuclear family complicates the situation further.
It is therefore in our own interest that we seek professional assistance and ensure financial security for us and our families.
If you liked the article, please comment below and share it friends and colleagues.
Reference & Credits
P.S.
Since some of you had asked for a sample financial plan, here is one from our stable (use to arrows on the toolbar to navigate the document):
FinancialPlan

P.P.S.
More questions? Book a no-obligation telephonic meeting: