This is an example financial plan prepared to help readers understand our approach towards the financial planning process.
The PDF version below represents the complete format a client would receive at the end of the analysis & planning:
(Please allow the document to load & use the arrow buttons on the toolbar to navigate)
[pdf-embedder url="https://viniyogindia.com/FinancialPlan.pdf"]
However, as above file might be hard to read, we have pasted some of the sections below in a free flowing format for easy reading. Hope this helps.
1. Your Risk Profile
Based on your response to the behavioural risk analysis quiz, your assessed risk profile is:
Moderately Aggressive
You want to invest in a broad spread of quality investments, but predominantly in growth assets to achieve higher growth.
You understand that investment markets can and will fluctuate and that different market sectors offer different levels of risks, income and growth.
Your investment time horizon is for the long-term, 3 years or more.
When you think of the term risk, you think it means 'opportunity'.
When you make a financial decision, you usually focus on the possible gains.
You are a high risk taker and can accept higher levels of investment risks.
You are seeking to achieve a reasonably high rate of growth on the capital invested.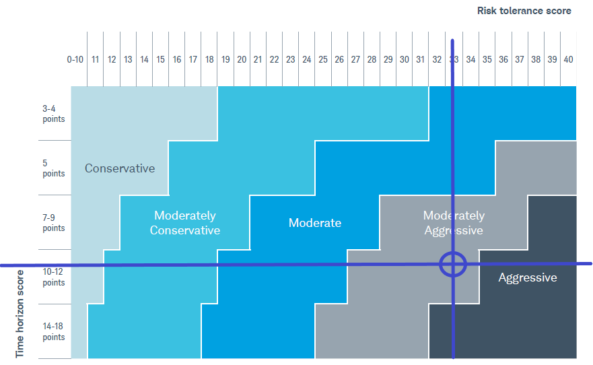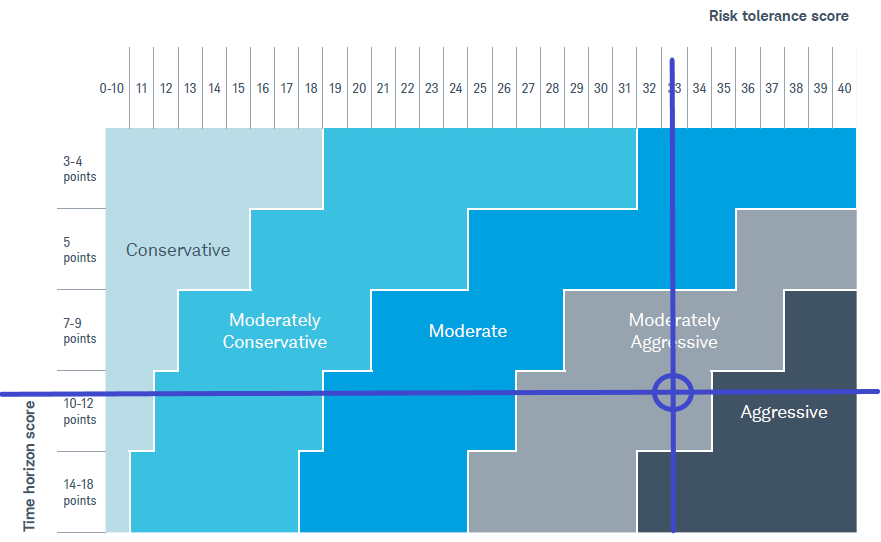 2. Your Asset Allocation
Asset allocation represents the mix of cash, fixed income and variable income products in your investment portfolio. It is important to have the right mix in order to enhance your return potential and provide the right diversification for risk optimisation based on the assessed risk profile.
Proposed Asset Allocation Plan
Suitable for long term investors who want good growth potential and don't need current income. Entails fair amount of volatility, but not as much as a portfolio invested exclusively in equities
Allocation: Cash – 5%, Fixed Income – 15%, Index Funds (Large Cap) – 45%, Direct Equity (Mid & Small Cap) – 35%
Your Existing Asset Allocation Plan (Optional)
(*** available with comprehensive plan)
3. Income-Expense Summary
Summary of income, assets & expenses.
4. Financial Goals
Summary of financial goals
General Goals
Early retirement at the age of 55 years.
Build a retirement corpus that allows me to retire early at 55 while maintaining same standard of living even after retirement by utilizing cash flow generated entirely from the retirement corpus
Adequate cover to protect family.
Have adequate life cover that ensures rest of the family is able to maintain same standard of living in my absence in case of untimely death
Additional Incidental Goals
(*** available with comprehensive plan)
5. Retirement Corpus Estimate
Estimation of retirement corpus required to permit requester retire early at the age of 55.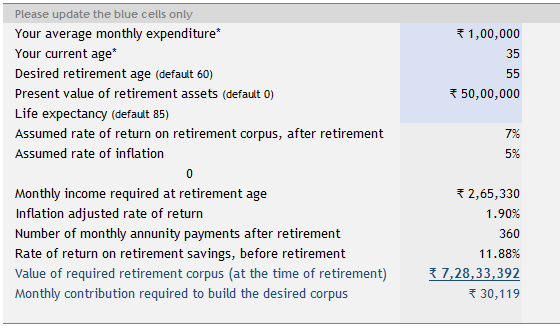 Assumptions:
Rate of inflation at 5%
Return on retirement corpus at 7%
Life expectancy is 85 years
Average monthly expenditure before and after retirement assumed to be same at constant purchasing power
Estimated corpus covers monthly expenses only. Any incidental expenses, such as marriage, children's education, bequest, etc. must be added, if not already considered.
6. Cash Flow Before Retirement
Below table shows your cash flow details till retirement.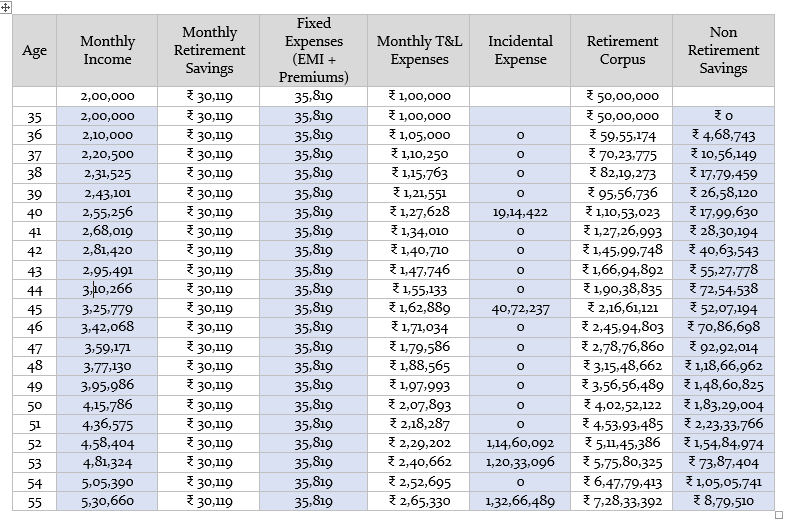 7. Cash Flow After Retirement
Below table shows how interest income from retirement corpus can be used to support expenses after retirement, in absence of alternate source of income.

8. Summary of Plan & Notes
Below diagram represents change in your net financial assets (excluding emergency fund) with time, along with financial goals.
Your emergency fund has been kept outside your retirement assets, to be used exclusively during exigencies. Also, any surplus, deficit from retirement plan is adjusted with it. In this case, surplus of 8.79L was added to the emergency fund at the time of retirement at 55, aside from the initial contribution.
9. Life Insurance Plan
Being adequately insured is essential to ensure your family/dependents are able to sustain same standard of living in the event something unfortunate was to happen to you today. The following elements have been considered while estimating your insurance needs:
Family Expenses: This is the average annual expenditure your family incurs as on date to support your current/ desired lifestyle. Assumed you are the sole earning member.
Outstanding liabilities: All debts that you owe needs to be repaid by the family in your absence. Assumed 15L liabilities in total.
Future obligations: Incidental expenses such as marriage, education, etc outside regular expenses. This has been assumed to be zero for simplicity.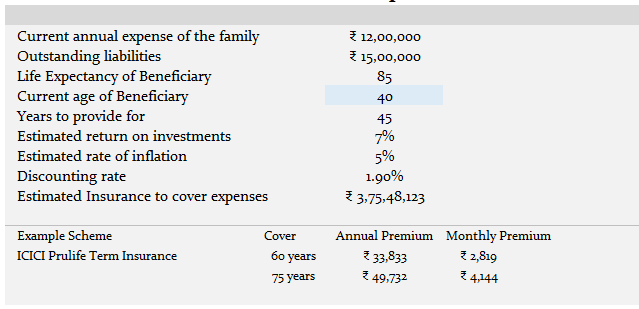 Assumptions:
Insurance need is calculated using expenditure method
Zero existing coverage assumed. Any existing cover needs to be substracted.
Assumptions on returns, inflation and life expectancy are same as section 4
Premium indicated is based on ICICI Pru Term Insurance Plan, for coverage upto 60 years
10. Exceptional Cash Flow
In the unfortunate case of an untimely death of the requester / primary earner, family should be sufficiently covered to permit sustaining standard of living, pay-off debts, etc. The table below shows how cash flows generated from insurance pay-out can be used to sustain expenses & liabilities, assuming an immediate demise.
11. Assumptions
Rate of inflation at 5% per year for the planned period
Rate of return on retirement corpus after retirement is assumed to be 7%
Rate of return on investments before retirement is based on asset allocation matching investor's risk profile
Income is assumed to increase by 5% every year
Average life expectancy is assumed to be 85 years, unless explicitly revised by the requestor
Default retirement age is assumed to be 60 years, unless explicitly revised by the requestor
Average monthly expenditure before and after retirement assume same at constant purchasing power
This plan is prepared based on inputs provided by the requestor – accuracy of which hasn't been verified by the author