This article lists 12 best small cap stocks in India, based on past 5 years performance.
SEBI through it's order dated 6th October 2017, has defined large cap, mid cap and small cap stocks as follows:
Large Cap: 1st -100th company in terms of full market capitalization
Mid Cap: 101st -250th company in terms of full market capitalization
Small Cap: 251st company onwards in terms of full market capitalization
As of 30th October 2018, small cap stocks therefore, translates roughly into companies with market cap of 7500 crores or less.
Methodology
In order to cherry pick the best small cap stocks we ran the following screen.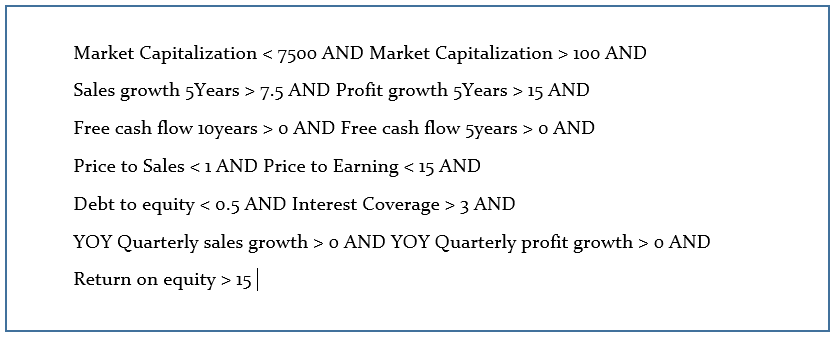 The result is a list of following 11 stocks:

We review each of these stocks in brief below.
KSE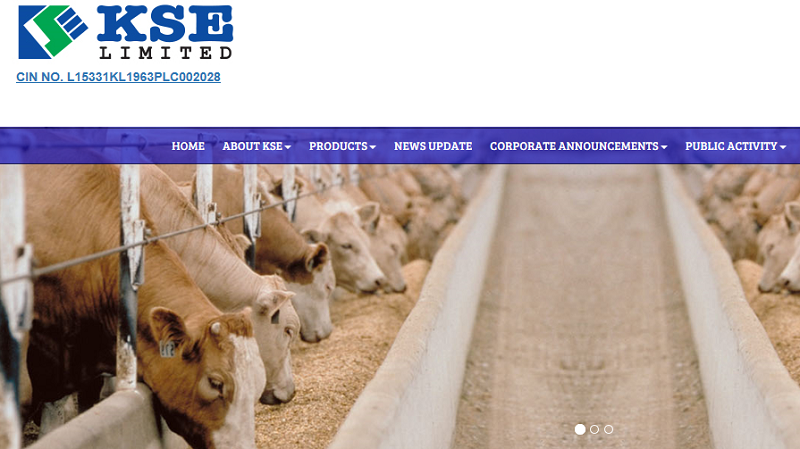 KSE Limited is an India-based company, which is engaged in the manufacturing of compound cattle feed. The Company is also engaged in the extraction of oil from copra cake by solvent extraction process and refining the same to edible grade and in dairying, including ice cream.
The Company operates through three segments, which include Animal Feed Division, Oil Cake Processing Division and Dairy Division.
Its Dairy Division consists of milk and milk products, including ice cream. It offers ice cream under the brand name, VESTA. The Company is engaged in the field of milk procurement, processing and marketing of liquid milk and milk products. Its milk products include KS Milk and KS Curd.
Its cattle feed products include K.S Supreme pellet, K.S Delux plus pellet and K.S Super. The Company also offers products, including K.S. PAAL and KS Ghee.
The Company's manufacturing units include Swaminathapuram, Vedagiri, Palakkad, Koratty, Konikkara and Thalayuthu.
Maithan Alloys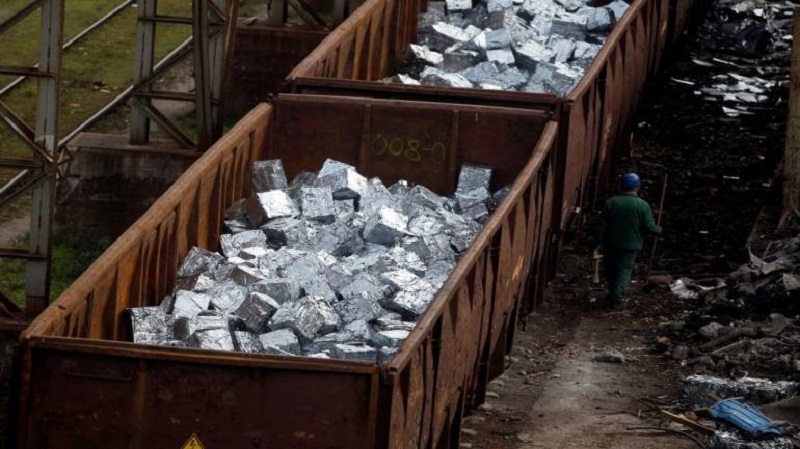 Maithan Alloys Limited is engaged in the business of manufacturing and exporting of all three bulk Ferro alloys, including Ferro Silicon, Ferro Manganese and Silico Manganese. Company has a captive power plant and is also engaged in the generation and supply of wind power. It operates through two segments: Ferro Alloys and Wind Mill.
Ferro manganese is alloy of manganese and iron, which is used primarily in stainless steel and flat products.
Silico manganese is an alloy of manganese, silicon and iron, which is used in all steel products, with higher quantities in 200 series stainless steel, alloy steel and manganese steel.
Ferro silicon is an alloy of silicon and iron, which is used in special steels and in small quantities in mid steel.
Its subsidiaries include Anjaney Minerals Limited and AXL Exploration Private Limited, which are engaged in export, import, production, processing, sale, purchase, distribution and dealing in metals and minerals.
Bharat Seats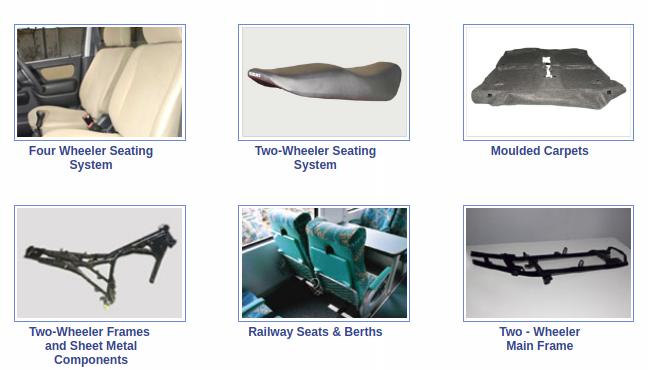 Bharat Seats Limited is engaged in the manufacture of seating system, moulded carpets and extruded components for Maruti Suzuki India Limited, as well as seats and frames for Suzuki Motor Cycle India Pvt. Ltd.
The Company's product range includes four wheeler seating system, two-wheeler seating system, two-wheeler frames and sheet metal components, railway seats and berths, and two-wheeler main frame. The Company offers car seats assemblies, carpet sets for automobiles, motorcycle seats, and other sales and traded goods.
The Company has installed equipment for a range of seating systems, such as high pressure polyurethane machines for foam moulding, which include polyurethane moulding lines for making polyurethane pads, conveyer assembly lines for seat assembly, carpet lamination, moulding and punching equipment, pipe end swaging machine, tube end fine boring machine and mechanical press.
The Company's plants are located in Gurgaon, Haryana
Meghmani Organics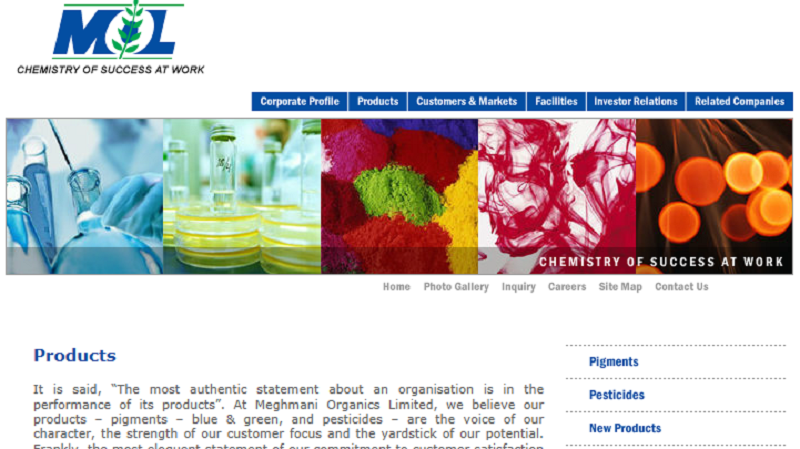 Meghmani Organics Limited is an India-based manufacturer of pigment and pesticide products. The Company's segments include Pigments, Agro Chemicals, Basic Chemicals and Others.
The Pigments segment manufactures and distributes Phthalocynine Green 7, Copper Phthalocynine Blue, Alpha Blue and Beta Blue.
The Agro Chemicals segment manufactures and distributes technical, intermediates and formulations of insecticides.
The Basic Chemicals segment includes basic chemicals, which undergo processing in various stages before being converted into downstream Chemicals that are used by the agriculture sector and also by consumers.
The Others segment includes trading activity.
The Company produces pesticides for crop and non-crop applications, such as for public health, insect control in wood preservation and food grain storage.
The Company's brands include Megastar, Megacyper, Megaban, Synergy and Courage. The Company's basic chemicals portfolio includes caustic soda, chlorine and hydrogen.
Precision Wires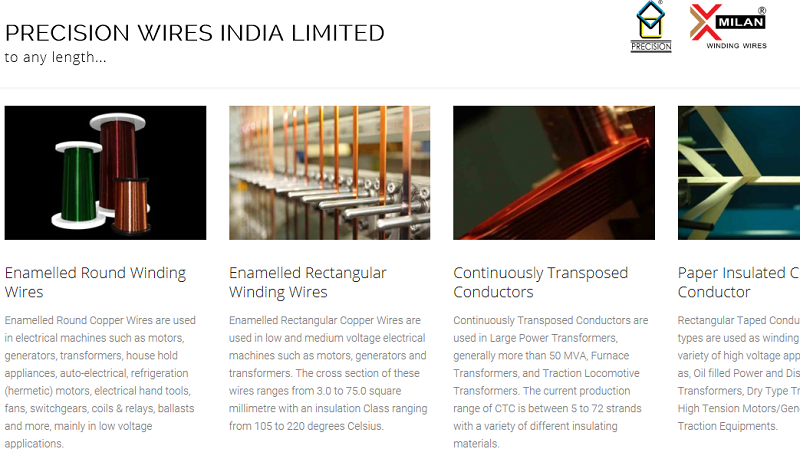 Precision Wires India Limited is engaged in production and sale of winding wires made of copper of all types. It is the largest winding wire manufacturer in India.
The Company manufactures winding wires, which are used in the manufacture of both rotating and static electrical equipment. It offers insulated enameled wires and other insulated electric conductors, including insulated enameled round winding wires, enameled strips, paper insulated copper conductors and continuously transposed conductors.
Its wires are widely used in equipment, such as Rotating machines (manufacturer and repairer); Alternators; Hermetic motors (for refrigeration and air conditioning equipment); Power and Distribution Transformers; Control and Power supply Transformers; Ballasts; Auto Electricals; Electric hand Tools; House hold appliances, and Fans.
It offers its products to large and medium electrical and electronic equipment manufacturers both in India and abroad.
Its plants are located in union territory of Dadra and Nagar Haveli, Gujarat and Maharashtra.
Ruchira Papers
Ruchira Papers Limited is an India-based company, which is engaged in offering paper and paper products. The Company is engaged in the process of manufacturing writing and printing paper, and Kraft paper.
The Company's white writing and printing paper is used in the fabrication of note books and writing material; the colored paper is used in the fabrication of spiral notebooks, wedding cards, shade cards, children's coloring books, colored copier paper and bill books. Its Kraft paper finds its application in the packaging industry for making corrugated boxes/cartons and for other packaging requirements.
Writing and printing paper is manufactured by using agricultural residues, such as wheat straw, Baggase, sarkanda and other materials. Semi kraft paper is manufactured by using agriculture residues, such as Bagasse, wheat straw, rice straw, sarkanda and indigenous and imported waste paper.
The Company offers its products to customers in India and overseas.
Dynemic Products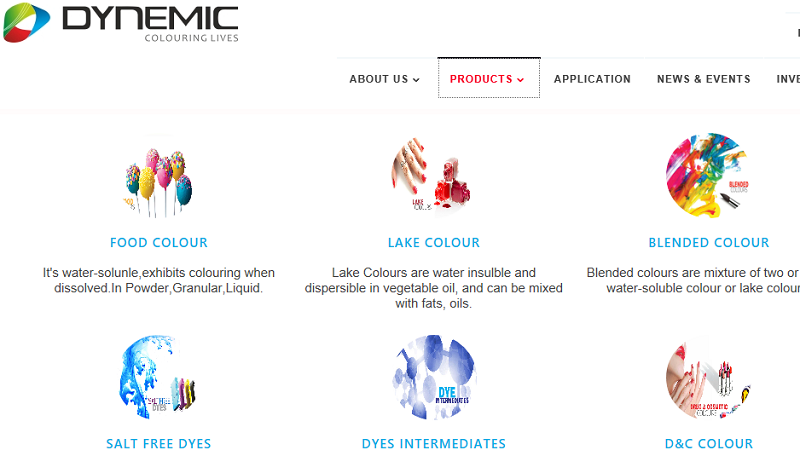 Dynemic Products Limited is a food color manufacturing company. The Company is engaged in manufacturing and marketing of dyes and intermediates. It manufactures and distributes food colors, lake colors, blended colors, and food drug and cosmetic (FD&C) colors.
Its segments include Domestic and Export.
The Company offers a range of salt free dyes for inkjet industry. It also offers salt free dyes and natural food colors.
Its lake color products include lake quinoline yellow, lake tartrazine, lake erythrosine, lake allura red, lake carmoisine, lake amaranth and lake indigo carmine.
Company's blended color products include egg yellow, lemon yellow, strawberry red, moss green, raspberry red, pea green, tomato red, orange red and rose pink, among others.
Its dyes intermediates include pyarazolone-based dyes intermediates, naphthalene-based dyes intermediates and benzen-based dyes intermediates.
Samkrg Pistons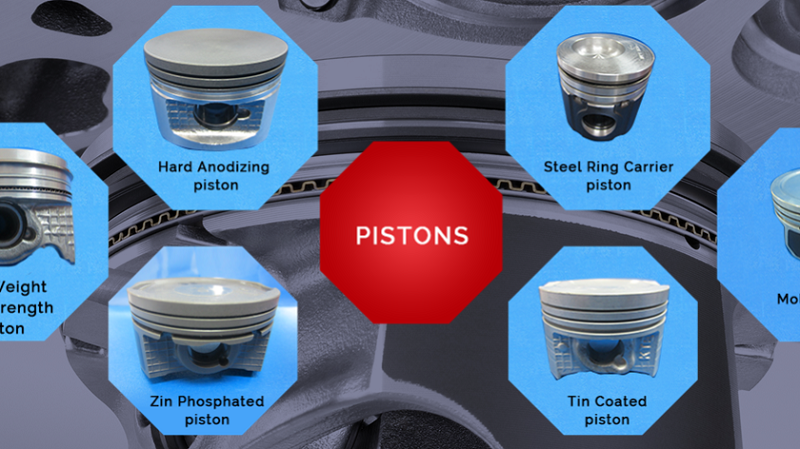 Samkrg Pistons And Rings Limited is engaged in the manufacture of auto components, such as piston assemblies.
The Company manufactures and supplies pistons, piston pins and piston rings for gasoline and diesel internal combustion (I.C) engines for scooters, motorcycles, cars, tractors, light commercial vehicles (LCV's), stationary engines and other special applications from 35 millimeters (mm) to 130 mm diameter.
It supplies piston rings with hard chrome plating, nitrated, min phosphated and ferrous coated in rectangular, wedge key stone shaped Napier with plain and barrel honed. Its piston pins are made in various alloy steels and heat treated.
It offers piston rings from 35 mm to 130 mm long in special iron, malleable martensite iron and nodular or ductile cast iron. Its steel rings are available in the diameter range of 35 mm to 130 mm with an axial width from 0.8 mm to 3 mm for motor cycles, cars, LCV's, heavy commercial vehicles (HCV's), tractors and industrial engines.
TVS Srichakra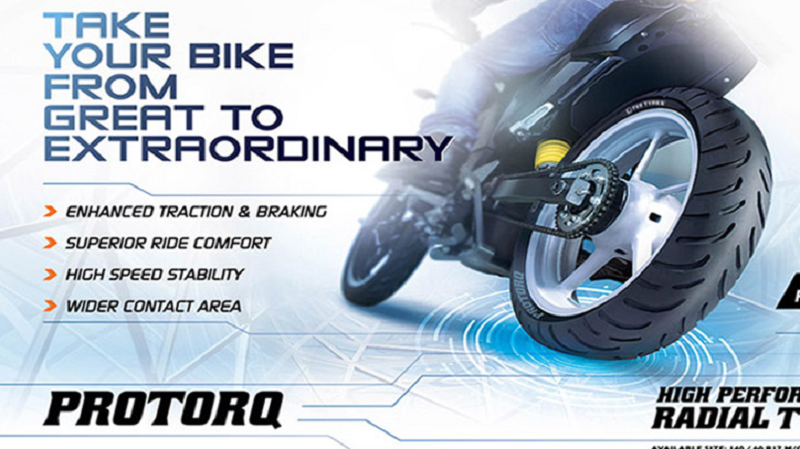 TVS is engaged in the manufacture of tires and tubes, including road use tires/tubes, which includes two wheeler tires and tubes; off the road tires used in implements/forklifts/industrial tractors, and other machinery, non-highway service tires, such as sand tires, grader tires, compactor tires, and vintage tires, multi-purpose tires (MPT), flotation tires, radial tires, tubeless tires, farm tires and tubes used therein, and solid resilient tires.
It offers tires for motorcycles, such as 100/80-18 REAR 53P, 100/90-17 REAR 55P, 100/90-18 REAR 56P and 110/80-17 REAR 57P; Scooters, such as 100/90-10 56J, 2.75-10 37J 4PR and 2.75-14 37J; Mopeds, such as 2.25-16 36L 6PR, 2.25-16 REAR 36L 6PR, 2.25-19 REAR 42L 6PR and 2.50-16 FRONT 41L 6PR, and Loader Services, such as 7.00-15 TT.
Its subsidiaries include TVS Srichakra Investments Limited and TVS Europe Distribution Limited.
LG Balakrishnan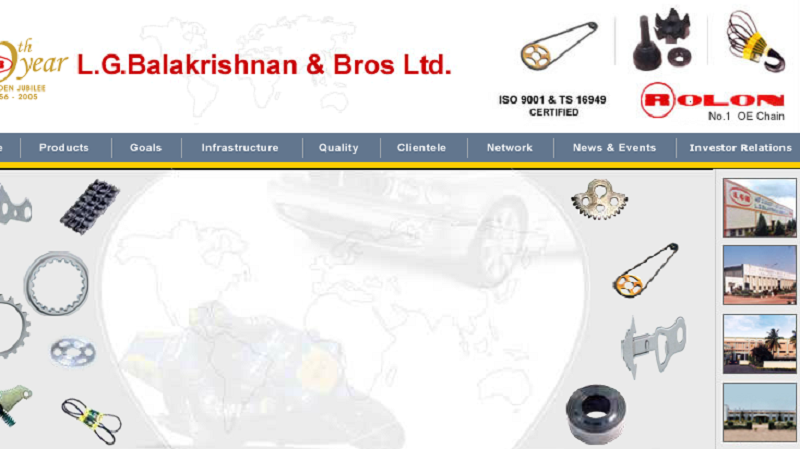 L.G. Balakrishnan & Bros Limited is engaged in the business of manufacturing chains, sprockets and metal formed parts for automotive applications.
The Company's segments include transmission, metal forming and others.
The transmission segment includes chains and sprockets. The metal forming segment includes fine blanking, machining and wire drawing products. The others segment includes trading goods.
Its transmission products include tensioners, belts and brake shoe. It offers metal forming products, including fine blanking for precision sheet metal parts, machined components, and wire drawing products for internal use, other chain manufacturing plants, spring steel suppliers and umbrella manufacturers.
The Company's products are marketed under the Rolon brand.
It has manufacturing units spread across Tamil Nadu, Maharashtra, Uttrakhand, Karnataka, Haryana and Rajasthan.
Simmonds Marshall
Simmonds Marshall Limited is engaged in providing nylon self-locking nuts (industrial fasteners). The Company's main business is manufacturing and selling of industrial fasteners used in auto industry, railways, white goods and farm equipment, among others.
It operates in two geographical segments: India, which includes sales to customer within India, and Other Countries, which includes sales to customer outside India.
Its products include cleveloc and all metal self-locking nuts, u-nuts, dome cap nuts, wheel nuts, castle and slotted nuts, hose pipe fitting nuts, flange nuts, weld nuts, bolts and studs, and cold forged sleeves/bushes collars/spacers.
Company produces over 500 million nuts per annum in a range from M4 to M48 diameter and equivalent imperial sizes. It supplies a range of bolts from its associated companies ranging from M5 to M70.
Company also has a battery of multi-spindle automatic bar turning centers, which produce related automotive components.