Both Warren Buffett and Rakesh Jhunjhunwala are legendary investors, who created humongous wealth by investing in stocks. And while they both have been extremely successful, their strategies have not been entirely the same. In this post, we discuss 2 key investing principles where their styles align and diverge.
Warren Buffett
Known as the Oracle of Omaha, Warren Buffett is one of the most successful investors of all time. With an estimated net worth of 86.3B USD, he is the 3rd richest person in the planet. (1)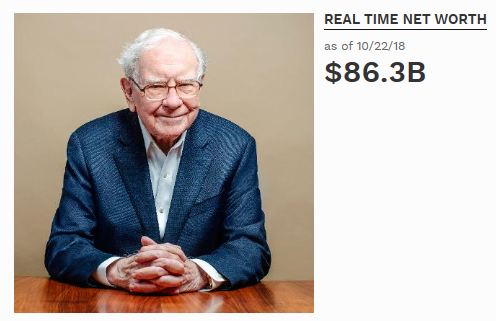 Buffett runs Berkshire Hathaway, which owns more than 60 companies. It has a market cap of over half a trillion USD (552B as on 9th October, 2018, 2), which is about a fifth of India's nominal GDP of est. 2.85T in 2018 (3)
Berkshire's cash on balance sheet alone is estimated 111B (4), which is roughly similar to Forex reserves of US (124B in August, 2018 – 5)
He built this enormous empire in his lifetime, over a span of only 62 years, starting with a paltry 105K USD raised from friends and family in 1956, when he started Buffett Partnership.
Rakesh Jhunjhunwala
Rakesh Jhunjhunwala on other hand is the 61st richest Indian (#791 in global ranking) and arguably the most successful trader-investor in India. He is known by various names, including the 'The Pied Piper of Indian Bourses', 'The Big Bull' and 'The Warren Buffett of India'.
Mr Jhunjhunwala began investing in 1985, with paltry 5000 rupees when Sensex was at 150. Over the next 33 years, while Sensex grew by over 230x, Rakesh's wealth soared to nearly 3B – making him the most successful investor in recent times.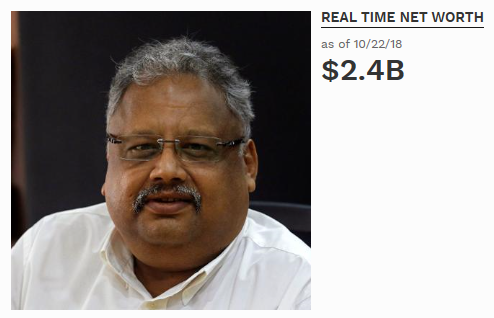 Although both Warren Buffet and Rakesh Jhunjhunwala made their wealth primarily through investing in stocks, their styles align and diverge on 2 key principles.
Leverage – divergent styles
Warren Buffett has extensively spoken and written against using borrowed money to fund investments. In his 2017 annual letter to shareholders, he cited 4 major declines in the share price of Berkshire Hathaway, between 1973 and 2009 as an argument.
This table offers the strongest argument I can muster against ever using borrowed money to own stocks…There is simply no telling how far stocks can fall in a short period

While admitting that aversion to leverage may have hit Berkshire returns over the years, Buffett acknowledged that his aversion stems from preference to peace of mind over taking risky bets.
Our aversion to leverage has dampened our returns over the years. But Charlie and I sleep well.
Rakesh Jhunwala however strongly disagrees.
Mr Buffett has never taken a leverage so what does he know about leverage? He might have met a lady, he might have had a drink but he has never had taken leverage! If I started with Rs 5,000, I am not taking leverage I would not be where I am today. But that is a great man's opinion, and so be it,"
Buy and hold investing – alignment in styles
Surprisingly, when it comes to long term investing, both Warren Buffet and Rakesh Jhunjhunwala, agrees on the importance of patience.
Warren Buffett had eloquently put this many times, in different contexts.
Someone's sitting in the shade today because someone planted a tree a long time ago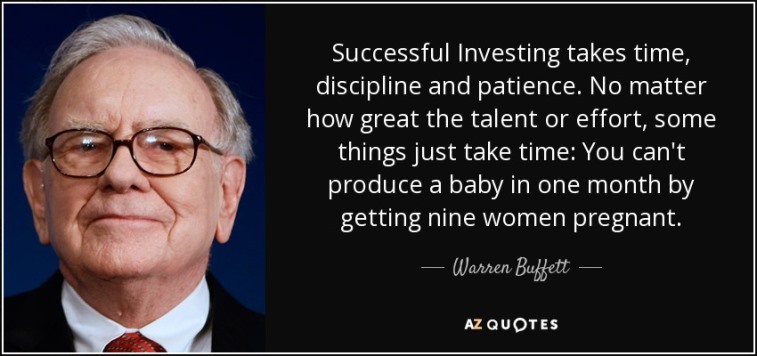 And Rakesh Jhunjhunwala cannot agree more.
Give your investments time to mature. Be Patient for the World to discover your gems
Renowned investor Mohnish Pabrai once mentioned that contrary to media image, Mr Jhunjhunwala is actually a text-book example of a buy-n-hold investor just like Warren Buffett and Charlie Munger.
Rakesh Jhunjhunwala has this persona of a guy who sits in front of three screens, talking to people all the time and all this activity is going on. But then in his portfolio, Titan doesn't get touched for decades. Lupin doesn't get touched. The crown jewels don't get played with
Conclusion
Both Warren Buffett and Rakesh Jhunjhunwala agree on the importance of patience in long term investing. Their core long term portfolio is based on buy and hold strategy.
However, they completely disagree on use of leverage.
Our own preference is not to use leverage, as sharp declines in market can wipe-out capital in a leveraged portfolio. As Buffett said, there is simply no telling how far stocks can fall in a short period.
Reference
1. Forbes – Warren Buffett profile
2. Market capitalization of Berkshire Hathaway
3. Wikipedia – Economy of India
4. Motely Fool – Berkshire Hathaway – massive cash hoard
5. Trading Economics – US Foreign Exchange Reserves