Raamdeo Agrawal, 62, Joint MD & co-founder, Motilal Oswal Financial Services Limited is a distinguished stock market investor. As of 3/6/18 – he had an estimated networth of 1B USD according to forbes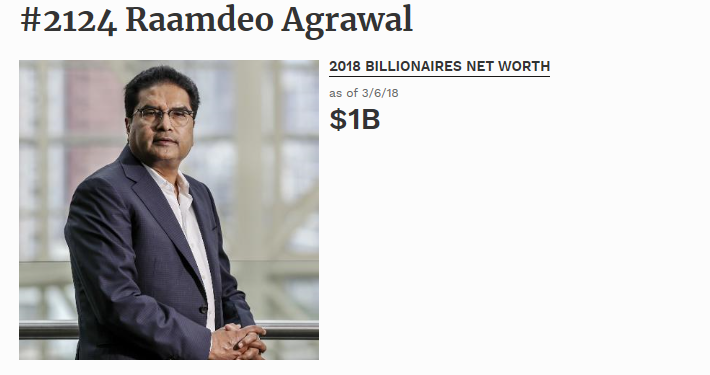 Early Life
Agrawal hails from a middle-class family who grew up in a village in Chattisgarh, Central India. After completing B.Com (at Bombay University), Raamdeo decided to study chartered accountancy. He struggled a lot and took five years for the completion of chartered accountancy.
It was while studying for chartered accountancy in Mumbai that Ramdeo met and befriended Motilal Oswal, who stayed with him in the same hostel—Rajasthan Vidhyarthi Griha in Andheri.
Agarwal, in Oswal's words, was a hard-working fellow with a very bookish bent of mind. "He was always reading balance sheets and doing research and calculating numbers." It was also around this time that Oswal discovered this "animal called the stock market". Both friends immediately spotted an opportunity.
The Plunge
After completing CA, Raamdeo decided to try his hand at stock market. In those days the exchange was dominated by Gujaratis. "The floor was full of Gujarati traders and all official circulars and documents were published in that language," MO remembers. But Agarwal was able to get in touch with a broker who promised to get them a sub-broker's position on the floor as soon as a position fell vacant.
A few months later, the solitary sub-broker badge was made in the name of "Motilal Oswal".
From the beginning MO was not just any other business. When Motilal Oswal Financial Services Ltd (MOFSL) was set up as a broking house in 1987, it was one of the few professionally managed broking companies to concentrate on research and it went on to become a non-banking financial company.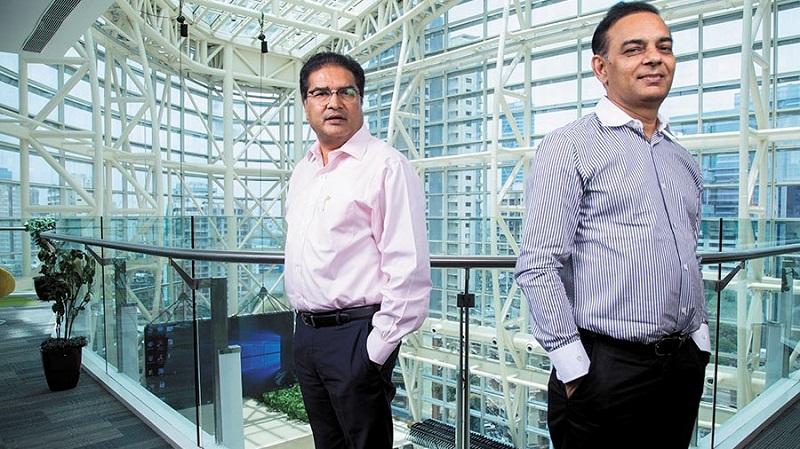 Apart from its traditional business of broking, the company also entered the asset management (AMC) business in 2008 and later set up a housing finance company (HFC) in 2013. Both these businesses have grown at a brisk pace over the last three years and make up a substantial part of the net profit of the company.
Not surprisingly, over the last two years, MOFSL has seen its market capitalisation go up by 245 percent to Rs 16,000 crore. For FY17, the company had a consolidated revenue of Rs 1,818 crore over a net profit of Rs 360 crore; its return on equity (ROE), at 22 percent, is a significant climb from 9 percent in FY13.
Investment philosophy
Raamdeo believes three Ds are key to success in equity investment: discipline, diversification and the ability to differentiate value from price.
It is important to stick to discipline and investment philosophy no matter whether it is good or bad times.
"24×7, seven days in a week, 365 days in a year and 20 years, 30 years … throughout the career, you have to maintain the discipline. When you do that you become very good at it,"
He advised investors to be careful in differentiating value from price. "Value is what you get, price is what you pay."
He said all investors are value investors and they must figure out how to calculate value. "You cannot calculate value of everything at every point of time… I could be good in four-five sectors, you could be good in another four-five sectors. So you take your picks. I will take my picks. But as a whole, if you do a good job, you have to make money," he said.
Agrawal said as an investor, one has to take a calibrated approach to build up a portfolio. That is why fund houses have diversification in their portfolio. "Diversification within a portfolio can take care of all the challenges of the marketplace," he said.
Portfolio
As of June 2018 – Raamdeo's portfolio comprised of the following according to trendlyne.com:

Source: trendlyne.com
Journey from Zero to One Billion USD – Wisdom
(Excerpts from Raamdeo's presentation at FLAME University)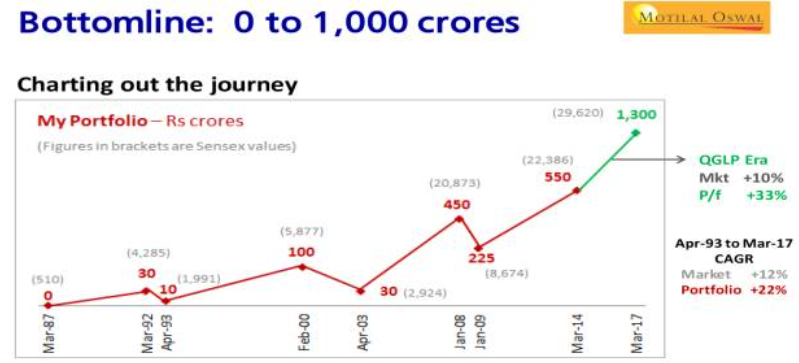 1. Power of compounding – 26% CAGR will create 1026x portfolio in 30 years
2. Build a focussed portfolio of 15-20 stocks
3. Importance of position sizing – a neglected area in portfolio design. Use Kelly's formula (modified) to decide on allocation
4. Stock selection using QGLP strategy
5. Clarity in portfolio goals
Kelly's Formula (modified) on position sizing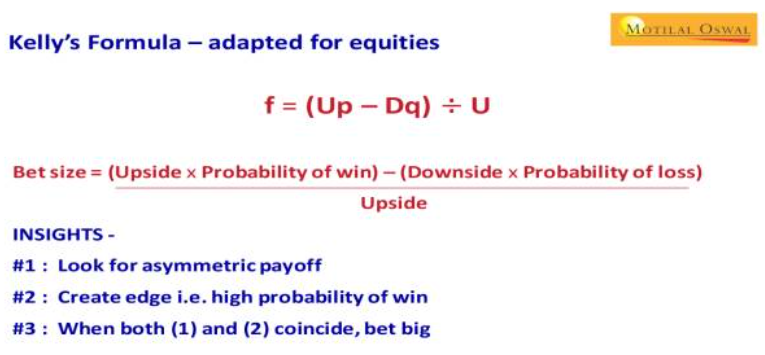 QGLP methodology