The mid and small cap segment of the market, which has taken a huge beating in 2018, is generally home to hidden gems stocks. With panic gripping the markets, now may be a good time for the unemotional investor to begin hunt for hidden gems stocks. To assist our readers with this exercise, we ran a couple of screens to dig out an initial list of stocks. The result is the assortment of 9 stocks we present below.
What are hidden gems stocks?
Hidden gems are stocks of quality companies with strong underlying business and growth prospects, but for some reason are yet to be discovered by the investor community.
In short, hidden gems are quality stocks that are yet to receive investor interest.
They are generally found in the mid and small cap space, as institutional investors, with large AUMs, cannot allocate meaningful assets in these stocks and hence institutions do not find sufficient motivation to research them.
To dig-out hidden gems stocks from the universe of publicly traded stocks in BSE, we run a 2 step screen:
First, we ran a screen to list out quality stocks,
Then, we ran a second screen on the results to filter out only the undiscovered stocks
Our objective interpretation of the word 'hidden' in hidden gems stocks are those companies that are under-owned by institutions.
More specifically, we are looking for stocks with institutional ownership of 5% or less, domestic and foreign combined.
Methodology
We ran the following 2 screens:
Screen 1
Screen 2
Institutional holding current quarter < 5
The second screen was ran on the result-set of screen 1 and we manually removed any stocks with negative earnings in past 5 years, extremely low or fluctuating OPM
The results are the following 9 stocks discussed below.

Maithan Alloys
Maithan Alloys Limited is engaged in the business of manufacturing and exporting of all three bulk Ferro alloys, including Ferro Silicon, Ferro Manganese and Silico Manganese. Company has a captive power plant and is also engaged in the generation and supply of wind power. It operates through two segments: Ferro Alloys and Wind Mill.
Ferro manganese is alloy of manganese and iron, which is used primarily in stainless steel and flat products.
Silico manganese is an alloy of manganese, silicon and iron, which is used in all steel products, with higher quantities in 200 series stainless steel, alloy steel and manganese steel.
Ferro silicon is an alloy of silicon and iron, which is used in special steels and in small quantities in mid steel.
Its subsidiaries include Anjaney Minerals Limited and AXL Exploration Private Limited, which are engaged in export, import, production, processing, sale, purchase, distribution and dealing in metals and minerals.
Share holding pattern
Promoters 74.99%, public 21.82%, FII 2.75%, DII 0.44%
Promoters 74.99% (maximum holding permissible)
Promoters have increased holdings by 4.42% in the June quarter
Total institutional holding is 3.19%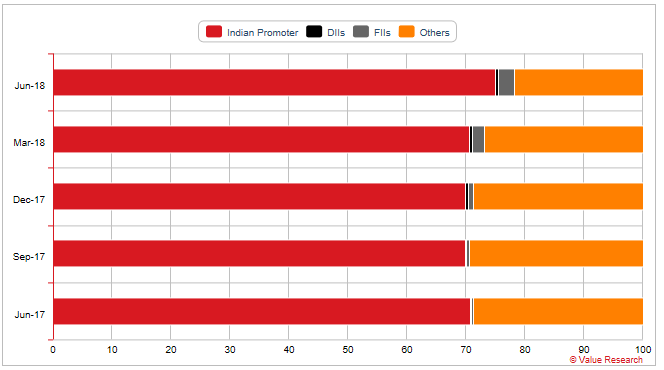 Sandur Manganese & Iron Ores
The Sandur Manganese & Iron Ores Limited is engaged in the mining of manganese ore and iron ore, and the manufacture of ferro-alloys.
The Company's segments include Mining, Ferroalloys & Power, and Steel.
Star Metallics and Power Private Limited (SMPPL) is the subsidiary of the Company, which has approximately two ferroalloy furnaces and a 32 megawatts thermal power plant, which is used as a captive unit for its ferroalloy operations.
The Company's mines are locate at Deogiri, SB Halli and Ramgad located around Sandur, and its Metal and Ferroalloy plant is located at Vyasankere.
The Company is a subsidiary of Skand Private Limited.
Share holding pattern
Promoter 72.45%, public 24.77%, FII 1.25%, DII 1.53%
Promoter holding has marginally gone up by 0.02% in the past 5 quarters
Total institutional holding is less than 3%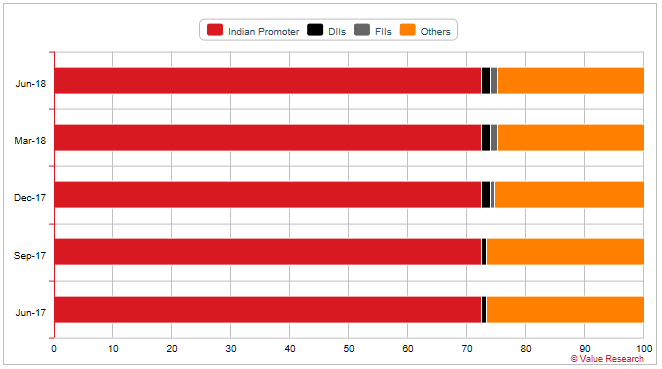 Shri Jagdamba Polymers
Shri Jagdamba Polymers Ltd. is based in Ahmedabad, India. The company has an installed capacity of 1000 MT per month to process woven polypropylene/polyethylene fabrics on both circular as well as sulzer looms. More than 80% of production is exported to the USA, Europe and several other countries.
Product range includes PP Woven Bags, FIBC, Box Bags, Silt-fence, Ground Cover, Fabrics, Geotextile, Lumber Cover, etc.
The company has targeted to double its capacity to 2000 MT per month in next five years by installing higher end products to cover several other areas of the global market. Plans have also been laid to put up captive wind power generation. As a part of backward integration plans are being finalised to put up in-house additive unit and machinery workshop.
Share holding pattern
Promoter 73.2%, DII 4.67% and public 22.13%
Promoter holding is unchanged for the past 5 quarters
Total institution holding is less than 5%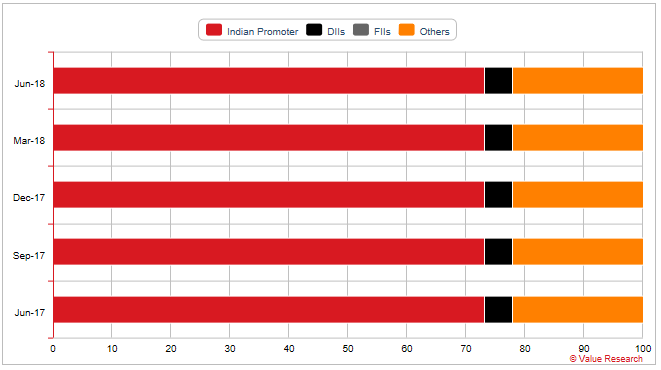 Associated Alcohols
Associated Alcohols & Breweries Limited is a distillery company. The Company is engaged in the manufacture of alcoholic liquor. It operates through Potable Alcohol segment. It is also engaged in the business of bottling vodka and Scotch whisky for international brands.
It has presence in all varieties of potable alcohols, country liquor (CL), rectified spirits (RS), extra neutral alcohol (ENA), distilled grain spirit, Indian made foreign liquor (IMFL) in the whisky, brandy, rum, gin and vodka categories, and bottling scotch whisky for other international brands.
It manufactures and markets in house brands, such as Red & White, James McGill, Bombay Special (in the whisky segment), London Bridge (in the gin segment) and Jamaican Magic in the rum category.
Its licensed brands include Smimoff Vodka, Captain Morgan rum, HAIG Scotch whisky, Masterstroke whisky, Glen Drummond single malt Scotch whisky and Royal Crown whisky. It has a production capacity of 42 million liters per annum.
Share holding pattern
Promoters 58.45%, Public 41.08%, FII 0.46%
Total institutional ownership is less than 0.5%
No change in promoter holding over the past 5 quarters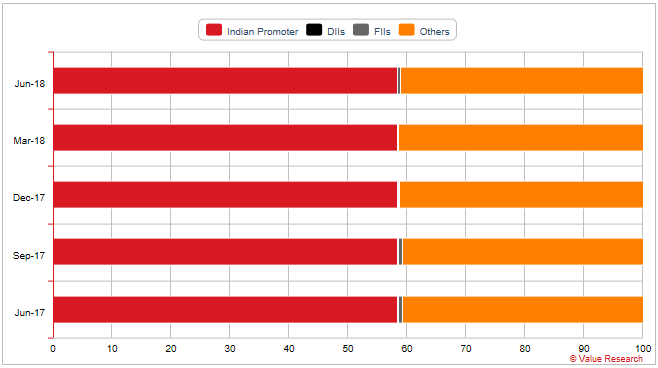 Bharat Seats
Bharat Seats Limited is engaged in the manufacture of seating system, moulded carpets and extruded components for Maruti Suzuki India Limited, as well as seats and frames for Suzuki Motor Cycle India Pvt. Ltd.
The Company's product range includes four wheeler seating system, two-wheeler seating system, two-wheeler frames and sheet metal components, railway seats and berths, and two-wheeler main frame. The Company offers car seats assemblies, carpet sets for automobiles, motorcycle seats, and other sales and traded goods.
The Company has installed equipment for a range of seating systems, such as high pressure polyurethane machines for foam moulding, which include polyurethane moulding lines for making polyurethane pads, conveyer assembly lines for seat assembly, carpet lamination, moulding and punching equipment, pipe end swaging machine, tube end fine boring machine and mechanical press.
The Company's plants are located in Gurgaon, Haryana
Share holding pattern
Indian Promoters hold 59.57% + Foreign Promoters 14.81% = total 74.38%
Promoters 74.38%, public 25.3%, DII 0.11%
Total institution holding is less than 0.15%
Promoter holding is unchanged for past 5 quarters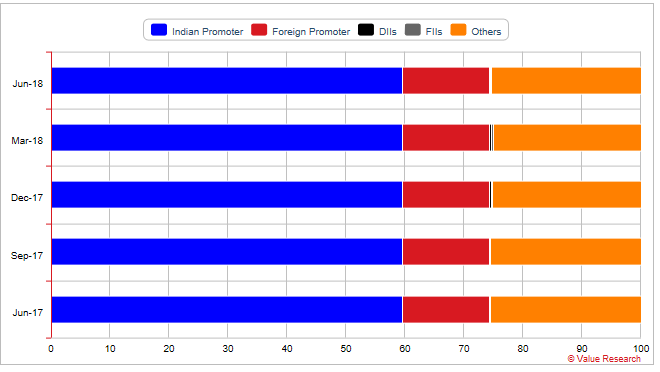 IG Petrochemicals
I G Petrochemicals Limited is engaged in the manufacture of Phthalic Anhydride (PAN). The Company is engaged in the manufacture and sale of organic chemicals.
PAN is used in industries, such as flexible poly vinyl chloride (PVC), plastics, paints, construction, transportation and marine. PAN is used in the production of plasticizers, polyester resins and other uses in the production of alkyd resins. It is primarily used in the manufacture of a range of consumer care, personal care and home care products, such as shoes, wires and cables, pipes and hoses, boxes, containers, packaging films, medical and surgical equipment, among others. The unsaturated polyester resins are used as thermostat for manufacture of fiberglass reinforced plastics for automobile, construction, marine and transportation industries.
The Company's PAN manufacturing units are located at Tajola in Raigad district of Maharashtra, India. The Company has production capacity of over 169,250 metric tons per annum (MTPA).
Share holding pattern
Promoter 72.22%, public 25.62%, FII 1.79%, DII 0.37%
Collectively institutions hold < 2.25%
No change in promoter holding in the last 5 quarters
Prominent public shareholder – Anil Kumar Goel, holding 1.87% for last 4 quarters unchanged

Dynemic Products
Dynemic Products Limited is a food color manufacturing company. The Company is engaged in manufacturing and marketing of dyes and intermediates. It manufactures and distributes food colors, lake colors, blended colors, and food drug and cosmetic (FD&C) colors.
Its segments include Domestic and Export.
The Company offers a range of salt free dyes for inkjet industry. It also offers salt free dyes and natural food colors.
Its lake color products include lake quinoline yellow, lake tartrazine, lake erythrosine, lake allura red, lake carmoisine, lake amaranth and lake indigo carmine.
Its blended color products include egg yellow, lemon yellow, strawberry red, moss green, raspberry red, pea green, tomato red, orange red and rose pink, among others.
Its dyes intermediates include pyarazolone-based dyes intermediates, naphthalene-based dyes intermediates and benzen-based dyes intermediates.
It provides bulk packing to small packing. The Company's plants are located at Ankleshwar.
Share holding pattern
Promoter 40%, public 60%, institutions 0.18%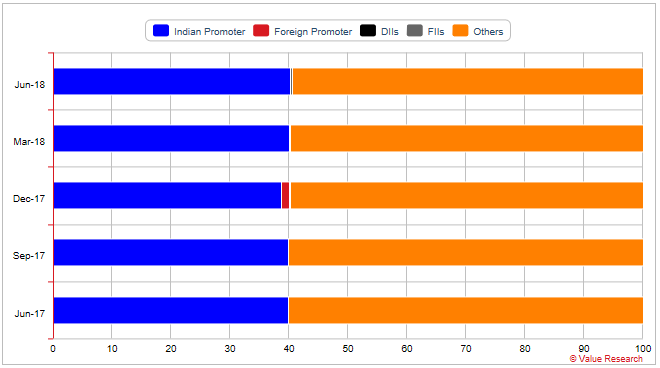 KSE Ltd
KSE Limited is an India-based company, which is engaged in the manufacturing of compound cattle feed. The Company is also engaged in the extraction of oil from copra cake by solvent extraction process and refining the same to edible grade and in dairying, including ice cream.
The Company operates through three segments, which include Animal Feed Division, Oil Cake Processing Division and Dairy Division.
Its Dairy Division consists of milk and milk products, including ice cream. It offers ice cream under the brand name, VESTA. The Company is engaged in the field of milk procurement, processing and marketing of liquid milk and milk products. Its milk products include KS Milk and KS Curd.
Its cattle feed products include K.S Supreme pellet, K.S Delux plus pellet and K.S Super. The Company also offers products, including K.S. PAAL and KS Ghee.
The Company's manufacturing units include Swaminathapuram, Vedagiri, Palakkad, Koratty, Konikkara and Thalayuthu.
Share holding pattern
Promoters 25.59%, public 74.3%
No institutional holding
Promoter holding is down from 26.27% in June 2017. Promoters have been selling small quantities of shares every quarter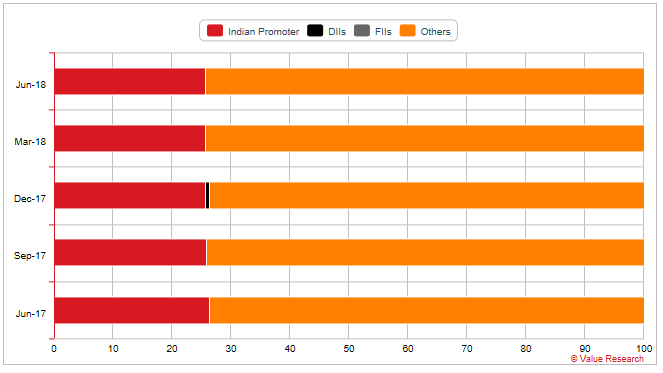 Meghmani Organics
Meghmani Organics Limited is an India-based manufacturer of pigment and pesticide products. The Company's segments include Pigments, Agro Chemicals, Basic Chemicals and Others.
The Pigments segment manufactures and distributes Phthalocynine Green 7, Copper Phthalocynine Blue, Alpha Blue and Beta Blue.
The Agro Chemicals segment manufactures and distributes technical, intermediates and formulations of insecticides.
The Basic Chemicals segment includes basic chemicals, which undergo processing in various stages before being converted into downstream Chemicals that are used by the agriculture sector and also by consumers.
The Others segment includes trading activity.
The Company produces pesticides for crop and non-crop applications, such as for public health, insect control in wood preservation and food grain storage.
The Company's brands include Megastar, Megacyper, Megaban, Synergy and Courage. The Company's basic chemicals portfolio includes caustic soda, chlorine and hydrogen.
Share holding pattern
Promoter holding is 50.29%
Promoter holding has been declining every quarter, down from 53.83% in June last year
FII hold 3.49% DII 0.59%, total less than 5%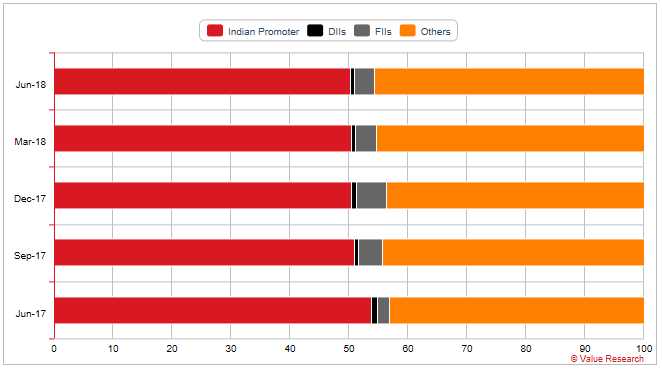 Conclusion
Markets are in a terrible state right now with rumour mongering, panic and sharp declines being the order of the day. However, if past history is anything to go by, then 'this too shall pass'. For the unemotional investor though, volatility presents opportunity to pick up good businesses at an attractive price.
We have presented an initial list of companies which we hope will assist you in your hunt for hidden gems stocks.
We will continue to refresh the list. Should you wish to receive updates to this list and similar stories, drop in your email-id to stay connected.
If you enjoyed reading the article share it with a friend or colleague.
Credits
Graphic credits – ValueResearchOnline
Company overview credits – Reuters