Action Construction Equipment Ltd (ACE) is the largest manufacturer of cranes in India with about 63% market share in Mobile and Tower Cranes. Company is also into Farm Equipment, Material Handling & Construction Equipment.
In addition to Mobile & Tower cranes, ACE's product range covers Crawler Cranes, Truck Mounted Cranes, Lorry Loaders, Backhoe Loaders, Forklifts, Vibratory Rollers, Motor Graders, Tractors & Harvesters and other Construction Equipment.
Established in 1995, company has state-of-the-art production facilities in the industrial township of Faridabad, in Haryana. Its products cater to infrastructure, industry and agriculture sectors.
Story
ACE is the largest manufacturer of cranes in India. The construction equipment industry after turning-around in 2016 following 4 year slump, is witnessing strong growth now. Supported by favorable government policies, increased budgetary allocation and spending on infrastructure, ACE is witnessing strong demand for its products. The cyclical uptrend in demand is likely to continue for the medium term, although risks from raw material price volatility remains a threat to its margins.
Industry Overview
Growth of equipment manufacturers is linked to growth in infrastructure, real estate, agriculture, industrial activity and indirectly with the growth in nation's economy. India's construction equipment industry has shown signs of recovery from 2016 after being down in the dumps for the preceding four years. This has been driven by increased highway construction, spending in water management and irrigation, increased industrial spending and urban infrastructure. Construction vehicle segment is leading the revenue share on account of wide deployment in mining and construction sector.
Increase in highway and road building activity, coal mining auctions, initiatives by government to develop 100 smart cities & setup industrial hubs, and "housing for all" by 2022, augers well for the sector. The Union Budget of 2018 allocated Rs 396,135 crores for infrastructure development, which is a 14% increase compared to previous year. With infrastructure spent likely to go up, demand for construction equipment will rise further. In 2017, about 78,109 units of construction equipment were sold which set a new record for India. By FY20, construction equipment industry's revenue is estimated to reach to US$ 7 billion, and construction equipment sales is forecasted to reach 100,000 units by 2022.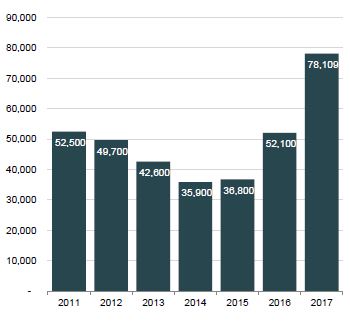 Source: IBEF, NBM & CW, Mahindra Website, Indian Construction Manufacturers' Association
Union Budget has proposed to assign infrastructure status to affordable housing projects, which is driven by governments' goal to provide "housing for all" by 2022. Growth in real estate sector has multiplier effect on ACE tower cranes business.
The Earthmoving Construction Equipment (ECE) Industry is primarily driven by roads and highway sector. This sector is back in track, and successful execution of announced projects is key to sustained growth going forward.
Agriculture remains a dominant sector in Indian economy with 70% of the rural households depending on it for living. Sale of tractors and harvesters depends on growth in agriculture sector, will still is dependent significantly on monsoons.
Exports have grown from 2% to 4% in FY18. Management expects exports to grow further to 8-10% in FY19 (~ 150 Cr). ACE has tied up with a Polish company (one of the oldest & largest tractor manufacturer in Europe) for exports. Deal is being inked. Management believes this deal can generate potentially 2-3K additional units of tractor sales in the 35-80 HP range in CY19 and 4-5000 units over medium/long term.
Promoter Holding & Recent Actions
As on 30th March, 2018, promoter owned 68.91%, DII 1.54%, FII 3.66%, others 25.89%. Total number of outstanding shares 11.73crores, free float 3.64crores.
Past 5Q Trend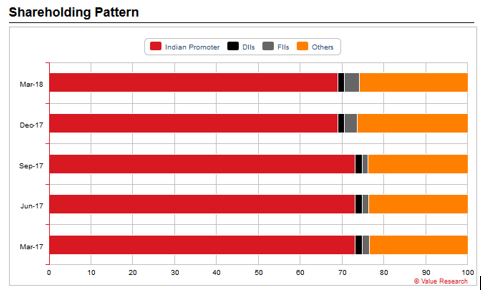 Recent Actions
Promoters acquired 51824 (0.04%) shares through open market purchase in the months of May & June 2018 at an average price of 138.86, for a total consideration of 71.96 Lakhs. No shares are pledged.

Financials
Past 10 year financials of the company:

Debt & Liquidity
As per Q4FY18 results presentation, as on 30th March 2018, outstanding debt was:
Long term Borrowings: 63.7 crores
Short Term Borrowings: 0.57 crores
Total shareholders' funds: 382.15 crores, EBIDTA 99.45 & Finance Costs 13.53 crores. D/E is 0.17 & Interest Coverage is 7.4.
Company is financially strong and intends to be debt free by FY19.
As of end FY18, company had no outstanding convertibles.
Receivable days is around 50.
As per Q4FY18 call, breakup is as follows :Payments through NBFCs (15-20 days), dealer credit (30 days), export (30 days)
Raw Materials
Cost of materials contributes to 65% of sales value. Employee expense is around 7.3% & manufacturing expense, including power & fuel is 12%
Increase in raw material cost, such as steel is causing stress on margins. Last price hike was taken in March 2018. Another 2-3% increase is due.
Existing Capacity & Utilization
Existing manufacturing capacity comprise of the following:
Cranes: 7500 units
Farm Equipment: 6000 units
Material Handling & Construction: 1300 units
As on May 2018, capacity utilization is:
Cranes 75%, Construction Equipment 30%, Material Handling 50%, Farm Equipment 50%
Indicative realization numbers, per unit sale:
Cranes: 14.3L, Farm Equipment 4.6L, Material Handling & Construction 5.8L (TBC)
Capex Plan
Cranes were operating at 75% utilization as on May 2018. Existing capacity is adequate to support demand forecast till September. Company has already undertaken expansion program to enhance capacity by further 50% (TBC). This is a brownfield expansion, expected to be completed by September.
Locations
Plant: Faridabad, Haryana
Corporate HQ: Dudhola Link Road, Dist. Palwal, 121102, Haryana
Marketing Office: 4th Floor, Pinacle, Suraj Kund, Faridabad -121009, Haryana
Market Share & Competitors
ACE enjoys 63% market share in cranes, and 20% in Fork Lifts. For rest of the products, it is currently a small player.
Major competitors are:
Mobile crane : Escorts
Tower Crane : Potain India
Forklift : Godrej, Voltas
Motor Grader : Caterpillar (50%), LeeBoy
Soil Compactor : Volvo, Caterpillar, Escorts
Backhoe : JCB, Tata JD, Mahindra
Key Clients & Marketing Strategy
Company has 100+ sales and service centers spread over the country. Of these, around 23 are company maintained, rest are dealer sales service centers.
70% of the sales happens through dealers and around 30% is direct.
Company has more than 1200 clients, covering private and government sectors.
Future Cash Flow Estimates
Cash flow estimates based on Q4FY18 earnings call: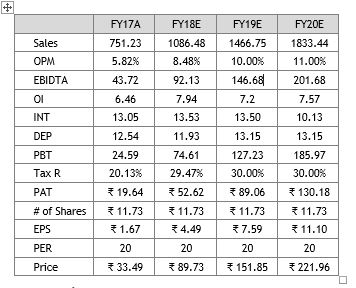 Assumptions:
35% top-line growth in FY19, against management guidance of min. 30-35%. April, May 2018 order inflow is 40-50% higher than last year.
10% EBIDTA margins in FY19, against management guidance of 11%
30% tax rates, in FY19 & 20
25% top-line growth in FY20, supported by domestic demand & exports. Management guidance of 10% export contribution in FY19 itself, from 4% in FY18
25% decline in finance charges in FY20, against management guidance of becoming debt free in FY19
Depreciation up by 1.25 crs in FY19 due to brownfield expansion for cranes, assumed capex of 25 crs
Other Income includes return on investments, interest income & equipment rentals
Related Entities
90% share in M/s Namo Metals, balance 10% held by Mrs. Mona Agarwal. Company has a capital of 4.2crores in FY18 against 3.9crores in FY17
100% subsidiary Frested Ltd. Holding Company based in Mauritus, originally created for a foreign acquisition. Didn't go as per plan & the acquired company had to be shutdown. Current plan is to amalgamate the holding company and wind down operation.
SC Forma SA, Romania. 89.5% subsidiary. Total Assets 4.1 crores, NP -0.14 crores
1 Year Historical Price Chart
Risk Analysis
Raw material price volatility resulting in pressure on margins
Adverse forex movements resulting in pressure on margins
Ability to pass on increased cost to customers in a timely manner
Cyclical nature of the industry
Change in government policy or budgetary allocation to infrastructure sector
Slowdown in Indian economy
Competition from new entrants
Unforeseen business losses