Incorporated in July 1926, The Indian Hume Pipe Company Ltd. (IHP) is engaged in providing Engineering, Procurement, Construction and Commissioning services in water supply, irrigation and sewerage related projects. The company is considered a pioneer in the field of water supply industry. Over a period, IHP has evolved from contract manufacturer of pipes to executing pipe laying contracts as well. Majority of IHP's clients consist of various State and Central Government agencies.
Primary business activity
Construction and maintenance of projects relating to water supply, irrigation, sanitation and sewerage systems and pipe manufacturing.

Products/ Services
IHPL has been in the business of manufacturing, laying and jointing of pipelines of various pipe materials such as:
RCC pipes,
Mild Steel pipes (MS),
Pre-Stressed Concrete pipes (PSC),
Penstock pipes,
Bar Wrapped Steel Cylinder pipes (BWSC),
Pre-stressed Concrete Cylinder pipes (PCCP) etc.,
which provide infrastructure facility and development for drinking water supply projects, irrigation projects, Hydro Electric Projects, Sanitation and Sewerage Systems.
Company has also been undertaking infrastructure development programmes by way of executing on turnkey basis the combined water supply projects i.e. undertaking the complete job of water supply from source to distribution centres which apart from manufacturing, laying and jointing of pipelines included construction of intake wells, water sumps, water treatment plants, water pumping stations, installation of pumping machineries, electro-mechanical works, branch mains, ground level reservoirs, elevated reservoirs, leading to executions of complete systems for water supply to various towns and villages of India.
IHL also manufactures sleepers for railways.
Key clients
Primarily, various state and central government agencies.
Detailed list of customers available at IHPL website.
Plant locations
IHPL has 21 factories dotted all over India. Head office is located in Mumbai.
Competitors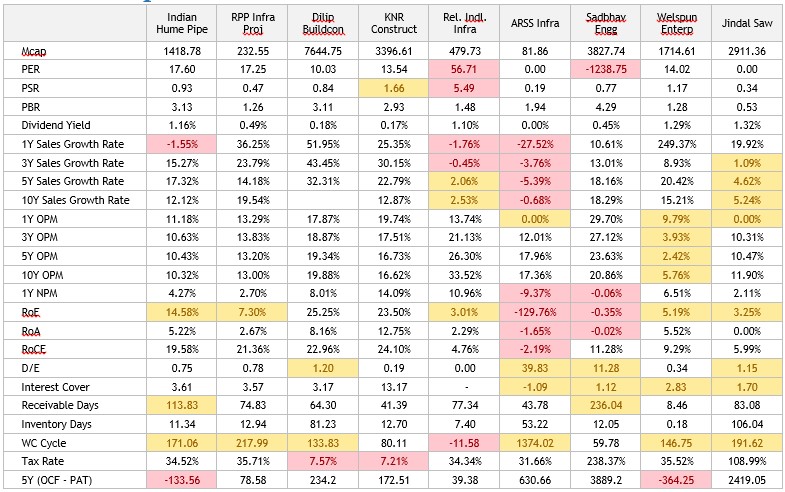 *KNR & DBL numbers shown are for the standalone business.
Biggest problems for IHPL are stretched WC cycle and cash-flows. It's amongst the few companies in the industry that has cumulative OCF < PAT. Receivables management and ability to bill customers in time are the biggest issues facing the company. Unbilled revenue as of March 2018 was 737 crores. RoE also is below 15%.
KNR has one of the best financials in the infrastructure space. DBL's high WC cycle is due to in-house equipment and they are focussing on improving n this parameter by clustering their projects.
RP Infra also has decent numbers, except for the high WC cycle and low RoE. According to CRISIL:RP Infra had gross current assets of 277 days as on March 31, 2018, because of inventory of 141 days and receivables of 77 days. Also, need to provide earnest money, security deposit, and bank guarantees increases working capital requirement, leading to nearly full utilisation of bank line.
Shareholding
Promoter holding & recent changes
Promoters hold 69.56%. No change recently.

More than 1% shareholders
Management Analysis
Directors
Key Management Personnel: 1. Mr Rajas R Doshi, Mr. Mayur R Doshi
Remuneration
Managerial remuneration are within the recommended ceilings.
Related Party Transactions
No materially significant related party transactions in FY18
Employee Feedback
Employee feedback is quite positive. Company is nearly 100 years old (founded 1926) & follows old school thoughts – provides free accommodation, conveyance to employees, don't fire staffs. According to one feedback – company do not lay off staff even if there is no work! Such companies are rare these days from an employee perspective. Unfortunately, this might not mean well for shareholders.
Only complaints are to do with inadequate salary hike and politics. Nothing serious at all!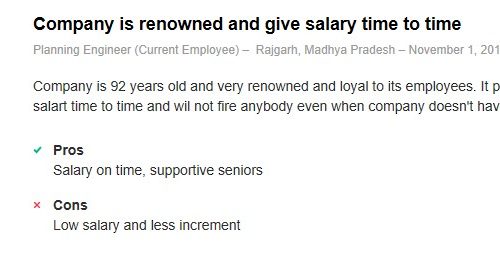 Average ratings:
1. Indeed.co.in – 4.4 (11 reviews)
2. Ambitionbox.com – 4.3 (39 reviews)
3. Timesjobs.com – 3.4 (4 reviews)
4. Glassdoor.in – 3 (1 review)
Financials
10Y historical financials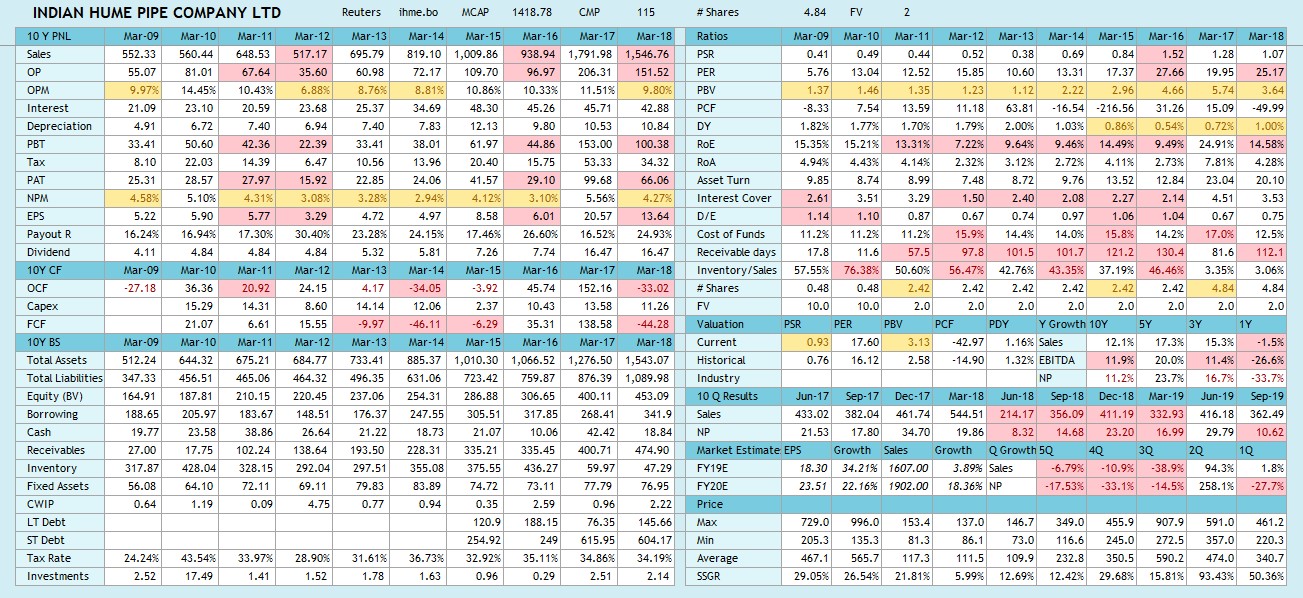 Growth rates
Long term sales have grown between 12 – 15%+ over 3-10 year, although last year (FY18) saw revenues dip marginally (due to a combination operational reasons like of less order inflow and external factors such as GST deployment)
Profits have generally grown a tad faster over longer term with PAT growing at 12-20%+ range. FY18 though, PAT slipped by a third.

Cash Flow
OCF & FCF – both have been positive over 5 and 10 year periods, cumulative, although cumulative OCF has been less than PAT. Receivable days are generally high, with FY18 seeing receivable days as high as 4 months (112 days). The fact that cumulative OCF is consistently less than PAT suggest problems in cash conversion which is not unusual in companies dealing predominantly with government clients in India. This is an issue.
Profitability
During FY18, PBILDT margins declined by 170 bps to 9.78% as against 11.5% during FY17 on the back of provision of Rs.30.33 crore made by the company against sales tax demand with regards to works contract executed in earlier years in the state of Rajasthan. However, the PBILDT margin has recovered to 11.66% during Q1FY19.

Leverage, Liquidity and Debt outlook
Cost analysis
Raw material + Other manufacturing expense, as a percentage of sales have been coming down, although individual contribution showed some fluctuation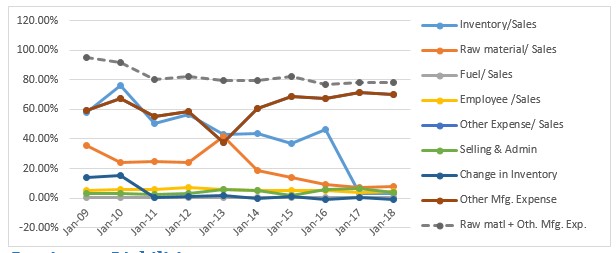 Contingent Liabilities
Contingent liabilities are 3% which is less than 5% of FY18 PAT – not a significant amount.


Tax rates & benefits if any
Tax rates are around 35% – based on both cumulative 5 year, as well as 10 year data.
Cash + Investments
Company doesn't keep a lot of liquid assets, which ranges between 20-25 crores.
Auditors comments
Independent Auditor in FY18 was Deloitte Haskins & Sells LLP. Report certified existence of adequate financial controls. There were no qualified opinions or other adverse comments.
Credit rating
Rated facilities were around 19 crores with strong rating. Credit ratings have remained stable/ unchanged for past 3 years.
Hidden Assets
IHML has land-banks which are no longer used and company is trying to develop/ monetize them.
These land banks are mostly from pre-Independence era, at which time they were being used for storing pipes. With development in road infrastructure these assets have now become redundant and are therefore being considered for development.
The development of Company's land at Hadapsar (Pune), Wadala (Mumbai) and Badarpur (New Delhi) are at initial stages of obtaining development related approvals from the various Authorities.
Current status:
Hadapsar, Pune: Potential development area is around 13 Lakhs Sq. Ft. INHP revenue share is 40%.
Badarpur, Delhi: Potential development area is around 10 Lakhs Sq. Ft. INHP revenue share is 48.5%. MOU with Sobha developers. This land needs to be converted from Industrial to Residential for which company needs to spend money. Sobha has indicated that it will take another 1 year to get the approvals.
Wadala, Mumbai: This land is fully encroached by slum dwellers and therefore this would be SRA project. Potential development area after considering SRA's share is approx. 40,000 sq. ft. only. Company has entered into MOU with Dosti developers for this land parcel
Total size of land parcel is around 2.3M square foot, or 32K cuttahs. At 5L per cuttah, value of the land comes to around 160 crores.
Corporate structure
Subsidiaries, holding companies, associates & JVs

Valuation, earnings estimates
Relative valuations
Stock is reasonably priced and quoting near its long-term (10Y) averages .


Trend Forecasts
Risk Analysis
Long working capital cycle, with high unbilled revenue keeping the receivables period elevated
The operating cycle increased to 169 days during FY18 as against 116 days during FY17. This is on account of increase in receivable days to 252 days for FY18 from 169 days for FY17 due to high unbilled revenue which substantially increased from Rs. 536 crore as on March, 2017 to Rs. 737 crore as on March, 2018 and Rs. 798 crore as on June 30, 2018. There was an increase in the scope of work for two large projects in Telangana as explained above. This increase in the scope of work also resulted into high creditors' period which stood at 97 days in FY18 as compared to 65 days in FY17. However, the supplementary agreement has been signed after Q1FY19 and the company has already received an amount of Rs.85.13 crore which has reduced the level of unbilled revenue to that extent.
Ability of the company to timely collect receivables as well as monitoring of unbilled revenue would be a key.
Credit Risk
Credit risk on trade receivables and unbilled work-in-progress is limited as the customers of the Company mainly consist of the government entities having a strong credit worthiness. For other customers, the Company normally secures recoverability of dues by means of getting letters of credits established on first class banks in favour of the Company if the material is sold on credit or against receipt of advances from the customers for such supplies and unbilled work-in-progress. Exposure is as follows:

IHPL mitigates this risk by computing the expected credit loss allowance against trade receivables based on historical credit loss experience and adjusted for forward looking information.

Decline in revenue and profitability during FY18; however profitability improved in Q1FY19
The total operating income stood at Rs. 1,574 crore during FY18, a decline of 13% Y-o-Y as against Rs. 1,808 crore during FY17. For Q1FY19, the company reported a revenue of Rs 366 crore as against Rs. 577 crore in Q1FY18. The decline in the revenue during FY18 and Q1FY19 was mainly on account of near completion of two large projects in Telangana. Also, the new orders which were received during quarter one of FY19 were at very nascent stages, resulting in lower contribution to revenue. Additionally, the revenue in FY18 was also impacted on account of implementation of GST during Q2FY18. During FY18, PBILDT margins declined by 170 bps to 9.78% as against 11.5% during FY17 on the back of provision of Rs.30.33 crore made by the company against sales tax demand with regards to works contract executed in earlier years in the state of Rajasthan. However, the PBILDT margin has recovered to 11.66% during Q1FY19. The revenue is expected to improve on the back of clarity on GST related issues and sturdy pick-up in execution of new orders during the second half of FY19.
Historical price chart
1 Y historical chart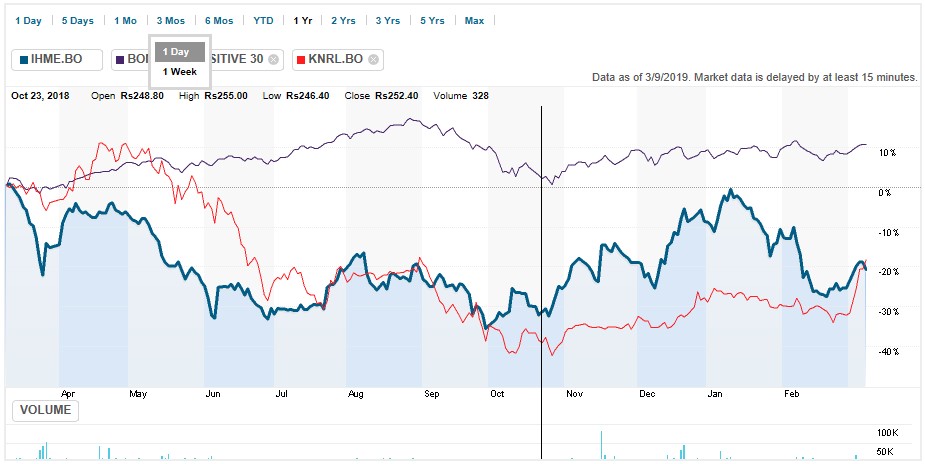 RSI, momentum
50.3/100
Free float, liquidity
• 2 week average quantity is 3736
• Free float is 427 crores against a market-cap of 1424 crores
Website
http://www.indianhumepipe.com/
Conclusion
IHPL is a pioneer in pipe infrastructure industry in India. It's a 93 year old company which appears to operate on the values of employee care which is rare occurrence these days. It also has a solid and fairly predictable business which has survived many ups and downs in the industry.
However, the company hasn't grown fast enough with current market cap still hovering around 1500 crores nearly a century after its inception. Multiple infrastructure companies set up a few decades back have grown faster and become larger than IHPL in a much shorter timeframe.
The biggest issue with the company is its stretched working capital cycle which has been continuously hurting the cash-flows. This is a common problem faced sometimes by companies operating in the government sector in India. Despite this, IHPL has been able to generate positive cash-flows and sustain for so long. However, ability to bill customers and collect receivables in a timely manner has been and is likely to remain an issue for the company in near future, until there is a fundamental change in the operating culture of its customers.
However, IHPL has hidden assets in the form of land-banks which the company is trying to monetize. While the process is likely to take years to bear fruit, if successful in the next 3-5 years, this could be a positive for the stock.