Stovec Industries Limited (SIL) was incorporated on June 5, 1973 as Stovec Screens India Limited. Stovec is a part of SPGPrints Group, The Netherlands.
Company is mainly into printing machinery and consumable. SIL offers products such as Rotary printing machines, Rotary screens and chemicals for textile printing, Anilox and screens for graphic printing, Digital ink and Sugar screens.
Manufacturing facilities of the company located at N.I.D.C., Near Lambha Village, Post Narol, Ahmedabad, Gujarat.
SPGPrints, Netherlands owns 71% of Stovec Industries, India.
Products

In 2017, Textile segment contributed to 84% of sales, while graphics & galvanic products contributed 5% & 11% respectively.
Both Textile consumables & machinery, as well as the graphic segment have been growing at around 19% CAGR over past 8 years or so.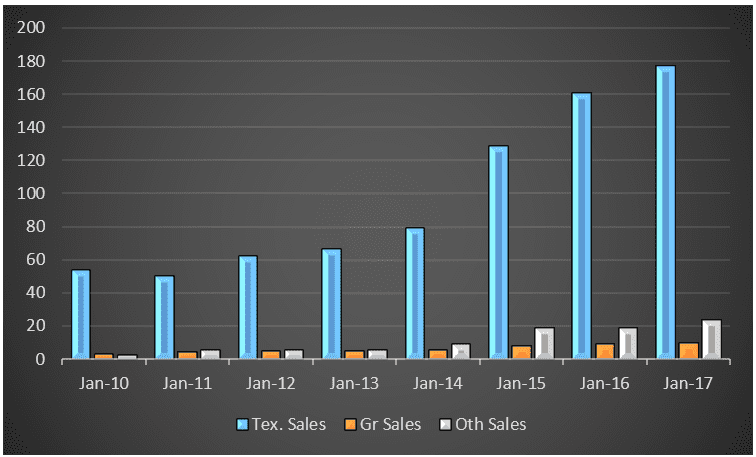 Historical sales by segment, source Stovec Annual Reports.
Two-third of the revenue comes from selling of consumable items such as screens, ink etc. while one-third comes from selling machines (capital goods)
After-sales service
Stovec has strong after-sales services network across India. The company has service engineers located in major textile hubs in Ahmedabad, Surat, Mumbai, Tirupur and New Delhi.
Existing Capacity & Expansion Plans
In 2013, MD in an interview given to Business Standard had revealed that company had a capacity of 30 high end machines & 1,30,000 screens per annum, with 30-35% market-share.
Past 5 years capex, source Stovec Annual Reports.
Company has been consistently investing in textile segment for the past 5 years, and our assessment is that Stovec may now have an existing capacity of around 50 machines & around 2,00,000 screens per annum, with estimated 40-50% market share in the high & mid textile machinery segment.
In 2014, Stovec invested around 11+ crores in the sugar screen segment. Major part of this money was used to acquire 100% stake in Atul Sugar Screens Pvt Ltd from Atul Electro Formers Ltd. Subsequently, SIL sold 100% of Atul Sugar along with parts of its own sugar screen business to fellow subsidiary Veco B.V.
This transaction has been perplexing to an extent because, Atul Sugar was a loss making company when SIL had purchased it for 8+ crores. Since taking over, losses of the company decreased & eventually the subsidiary became profitable in 2018, when it was then sold out. SIL however continues to do some contract manufacturing in the galvanic segment.
Realization
Stovec's products cater to high & medium segment of the textile machinery market. While India made rotary printing machine sell anywhere between Rs 10-30 lakh, Stovec's machines are being sold in range of Rs 1.5-2.5 Cr.
Raw materials
Nickel is a key raw material, comprising 30% of the cost & is imported. SIL maintains 6m forward contracts for currency but does not hedge commodity. Any sharp spike in price of Nickel therefore has an impact on margins.
For example in FY08 and FY11, OPM fell to 7.29% & 9.66% when the price of nickel spiked as shown below, against an average 1oY OPM of 15.24%
Nickel historical price, Source: businessinder.com
Industry Overview
Global scenario
World production of printed textiles amounted to around 31 B sqm in 2014. Out of this, 65% was rotary screen printed, 25% was flat screen printed and 2% was digitally printed (rest was by using variety of other processes)
Rotary printing continues to remain the main printing process of textiles. But recent years have witnessed digital printing gaining ground. Although digital printing is still comparably small with less than two per cent market share. The world output of digitally printed textiles is growing at an annual rate of 25 per cent.
From a demand perspective, apparels account for 54% of global textile printing market, interior textiles 34%, while industrial textile accounts for 8%.
Textile printing technologies & economics
Broadly, there are 3 types of printing technologies for textiles: Flatbed, digital & Rotary screen.
For run-lengths less than 1000 m, flatbed or digital printing may be economical. Digital printing is also relevant for very high quality & photo images. However, if run length is more and consistent quality is required than rotary screens are most economical.

Digital printing is uneconomical for longer run-lengths & the progression has been slow. Source: Meteor Inkjet
Domestic Scenario
Textile industry was worth 108B, growing at 11% and projected to reach 223B USD by 2021. Textile accounts for 14% of industrial production, 12% exports, 27% forex earnings & 44M employment.
India as one of the largest exporters of readymade garments to the world and the second most preferred sourcing destination for major global retailers. The organized apparel segment is expected to grow at a Compounded Annual Growth Rate (CAGR) of above 13 %.
Over the past few years, textile industry has witnessed spur in capital investment for technological up-gradation and product and quality enhancement. However in the second half of 2017, Investment in Textile Industry has somewhat slowed-down post tax reforms of government leading to less capital investment. The domestic textile industry was one of the most impacted sector by Goods & Service Tax (GST) as large number of players are unorganized.
Domestic textile printing & ink market
The textile printing market was estimated at 51m sqm in 2014, consumes 500-600 mmt of Ink and is worth around 250M USD as on 2014.
Ink market in India is dominated by 3 players, who between themselves control 85% of the market share: Jaysynth (40%), Huntsman (35%) and SPGPrints (10%). Further, Stovec is invested in Jaysynth & holds 2% of the equity.

Domestic ink market, source: Inkjet Forum India
SIL products caters primarily to domestic market. As on 2017, export contribution was around 8% of total sales.
Market share
SIL is world leader in Rotary screen printing for textile industry & precision metal products. They are second in digital printing and rotary screen printing technology for the graphic industry and have a place amongst the top 3 in flexographic laser engravers.
India Clients
Key Indian clients include the following:
Premier Spinning and Weaving Mills, Coimbatore, Alok Industries Ltd., Mumbai, Jay Jay Mills, Tirupur, Shivalik Prints, Delhi, Creative, Delhi, Akash Fashions, Ahmedabad, Chiripal, Ahmedabad, Bombay Rayon Fashions Ltd., Mumbai, Sri Krishna Spg. & Wvg. Mills, Bangalore, Ramkumar Mills, Bangalore, Binayak Tex Processors, Mumbai, Pradip Overseas, Ahmedabad, Raghuvir, Ahmedabad, and Printex, Tirupur.
Out of this list, publicly traded companies include Alok Industries, Chiripal (Nandan Denim?), Bombay Rayon Fashions, Binayaka Tex Processors, etc. Of these, only Nandan Denim had held a quarterly call in FY19, although that was in Aug 2018. At that point, NDL was operating at an sub-optimal utilization levels of 65-70% at par with industry averages due to GST & demonetization related disruptions which wer still hurting the last mile. Management also indicated existence of some overcapacity in the industry stemming from recent government incentivized capex.
Financials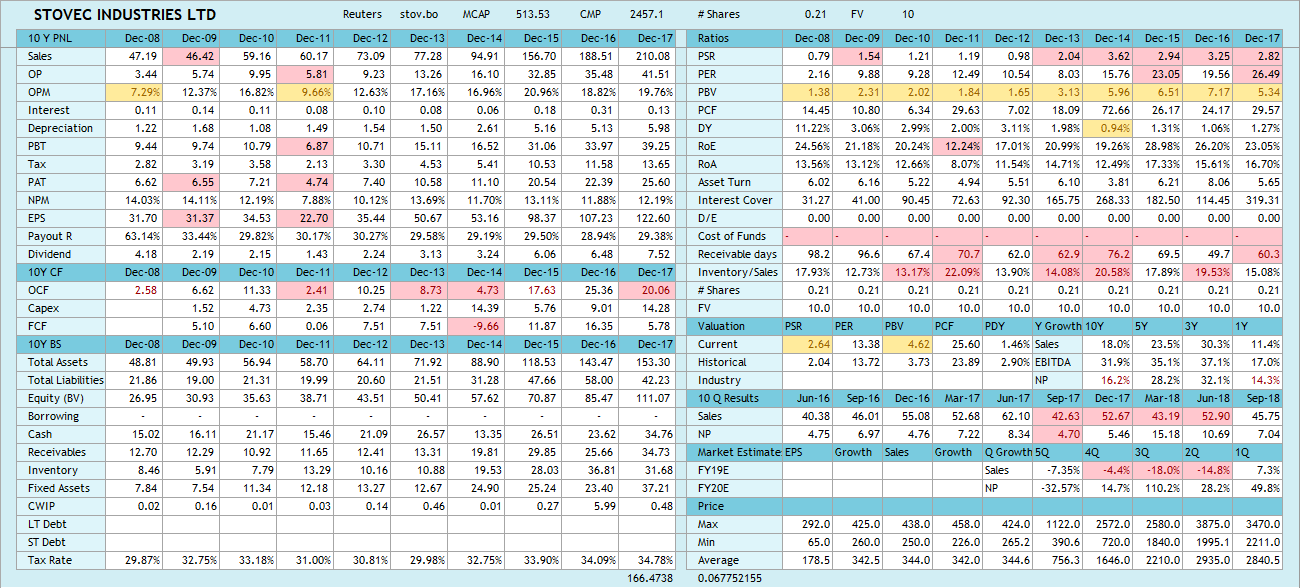 Past 10 Year financial summary, source: screener.in, viniyogindia.com
SIL has strong financials.
Long term growth rates has been 18%. While growth has been higher over the past 3-5 years, it's recently taken a dip post GST & demonetization which has impacted the entire textile industry.
Receivable days have been largely stable at around 60-65 over past 5-6 years & has improved from 90+ days 10 year back
Past 5Y OPM has been around 19%, higher than longer term average of around 15%
RoA in FY17 was 16.7%, higher than 5Y average of 15.4% & 10Y average of 13.6%
FY17 RoE is 23%+ and it has mostly stayed over 20% in past 10 years.
OCF has been positive each of past 10 years, with FCF –ve only once in FY14 when SIL went for an acquisition.
Dividend Yield is 1.4% and has been around 1%+ for past 5 years.
Company is debt free & has not resorted to any equity dilution in the past 10 years. Growth has been entirely funded through internal accruals.
Note. SIL has Jan – Dec financial year.
Earnings forecast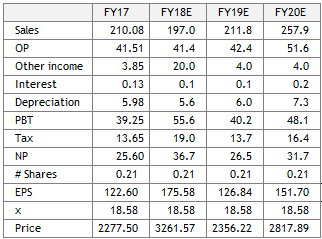 SIL is expected to witness dip in top-line in FY18 /CY18, although bottom-line is projected to grow by 40% due to Other Income (sale of subsidiary)
FY19 projections are an estimated 7.5% growth in top-line YoY and 28% decline in bottom-line.
Promoter holing & recent actions
Graphic source: valuerearchonline.com
Promoters SPGPrints B. V hold 71.06%, rest is held by general public. There is no change in promoter holding in recent times. Earlier, SPGPrints had increased their shareholding from 51% to 71%.
Related parties
Atul Sugar Screens has been fully divested in CY2018 to fellow subsidiary Veco B.V.
There was no materially significant related party transactions in FY17 (AR P-27).
Risk Analysis
1. Nickel constitute 30% of raw material expense for SIL. SIL does not hedge commodity transactions, as such, volatility in nickel may impact the Company's performance. In past, specifically in FY08 & FY11, spike in price of Nickel had impacted costs, reducing OPM to single digit levels from 15%+ 10Y average.
2. In FY17, SIL's net imports comprised 25% of turnover. Imports comprise raw materials primarily, along with capital goods, spares, etc. The fluctuations in exchange rate can impact SIL's performance.
3. Volatility in cotton prices can have an indirect impact on SIL as it directly impacts textile sector
4. 85% of SIL's business comes from textile sector with two thirds of earnings in consumables. Fortunes of the company are closely tied to the health of domestic textile sector. With domestic textile sector growing at around 12% roughly tracing the nominal growth rate of the economy, 20%+ growth on a sustained basis could be a challenge in absence of external catalysts. SIL's past 3 & 5 year growth rates have been higher than long term growth rate of 18% – this is largely due to government incentives (such as TUF) which led to capital spending in recent past.



Similarly SIL witnessed sales de-growth consistently for 4Q since GST was announced as textile industry was one of the most impacted.
5. SIL is a niche player in the textile market. The medium to high end textile machinery segment has an estimated capacity of around 150 machines per year locally, with SIL accounting for around 45-50% market share. Opportunity to scale up may be limited.
1 Year historical price chart

Source: screener.in
Disclosure: Author is SEBI registered investment advisor. This article should not be considered recommendation to Buy or Sell stocks or as a financial advice. Please read full disclaimer.
Reference
Rotary screen printing
Nickel screen engraving
SPG Prints