ViniyogIndia.com offers Stock Advisory and Financial Planning services by SEBI Registered Investment Advisor (s). If you are passionate about the India growth story and opportunities it create in the equity markets, I believe you will benefit from our research.
Over past 37 years stocks generated 18.5x more wealth than FD
Why our parent's failed to create wealth, and what we can learn from their mistakes
Between 1981 -2017, the BSE Sensex produced an annualized return of 16.2% compounded. Rs 1 Lakh invested in the SENSEX on 1981 would be worth 2.59 Crores by 2017.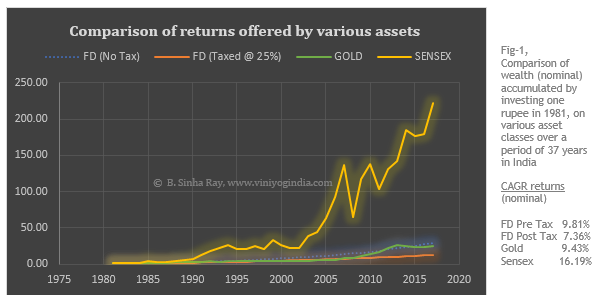 My father, preferred bank deposits as he equated stocks to gambling, and completely missed out on the bull-run. 1 Lakh invested in FD in 1981 is worth around 14 Lakhs in 2017 after tax (25%), which barely beat inflation.
Wealth accumulated by staying invested in FD over past 37 years is only 5% of wealth created through stocks.
My mother was wiser when it came to capital allocation & preferred gold which gave 9.4%, before tax. She squirreled gold jewellery for children's wedding and holed them up in bank lockers. Her investment advisor was my grandmother who didn't know that investing in GoI gold deposits instead of jewellery could have earned 2.5% more, tax free, instead of an annual locker maintenance expense. And all this this could have reduced capital requirements for any wedding significantly, 38% by this calculation.
Yet, my parents were not alone. Even today, only 10% of the population invests in stocks & mutual funds as per a recent SEBI study. Economic growth aside, the potential of Indian equities due to lack of participation of domestic investors alone could be humongous.
Why consult SEBI Registered Investment Advisor for Stock Advisory or Financial Planning needs?
Financial literacy is poor in India, despite Internet & business news channels
In today's age of Google, anything we want to know is a click away. When it comes to investing, talking-heads in TV & free reports of stocks offering 10-15% upside by full-service-brokers, supplement Google. With Google & talking-heads replacing grandmothers, investors are now more confident of their investing abilities.
However, this confidence is misplaced as financial literacy in India is poor. 76% of the population is not financially literate, according to an S&P survey conducted in 2014. And despite high market returns, the following statistics for US market might come as a surprise.
Investors have historically failed to create wealth despite high market returns
Number of Equity Mutual Funds that failed to beat the market over 10 year period is 74% or more.(1)
Average Equity Fund investors performed worse, returning of 3% annual gains against 13% for the markets over 20 years' period ending 2004.(2)
80% of the stock market newsletter publishers fail to beat the market returns over long periods of time.(3)
More than 80% of day traders lose money in a typical 6 month period, with only 1% succeeding in making predictable profits net of fees.(4)
In 2007, Buffett famously placed a million dollar bet, challenging Hedge Fund industry to put together a portfolio that would outperform S&P500 index fund over 10 years. He won by a wide margin. (5)
Why Sign-up
Reliable advice provided by SEBI registered investment advisor
Actively managed portfolio, around 15 recommendations per year
Personalised Asset Allocation Plan based on investor risk profiling
Inexpensive service, cheaper than equity mutual funds, and one of the most cost effective advisory
Detailed research reports supporting each advice, no stock-tip business
Financial Planning (optional) service, with option to choose between basic & comprehensive goal based plans
Interests are aligned with clients as adviser invests own capital in most of the recommendations
No 3rd party commissions apart from advisory fees, hence no incentive to recommend unattractive ideas for commission
Past Performance
ViniyogIndia.com started its journey in 2017, and is currently one of the fastest growing long term Stock Advisory and Financial Planning website.


Stock Advisory Vs Mutual Funds
We charge fixed fees against percentage for mutual fund. Therefore costs become increasingly cheaper compared to Mutual Funds as portfolio size increase.
Our fees are performance linked, while mutual funds will charge you irrespective of performance.
We offer personalized service which Mutual Funds cannot
Our services include Financial Planning option, which can be basic or  comprehensive goal based offering.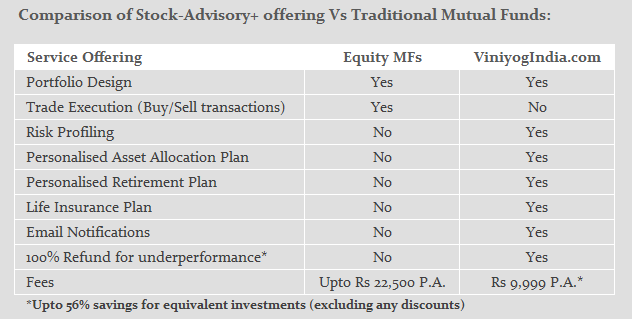 Pricing Plans

Offerings are available in the form of online subscriptions. Subscribers can view their reports anytime by logging in to the portal using their desktop, tab or smart phones.
100% Refund If Annual Returns are Less than 3.5%*
Combo

Rs

14999

yes

Asset Allocation Plan

yes

15 Stock Recommendations

yes

Detailed Research Reports

yes

Goal Based Financial Plan
Financial Plan

Rs

9999

yes

Asset Allocation Plan

no

15 Stock Recommendations

no

Detailed Research Reports

yes

Goal Based Financial Plan
Stock Advisory

Rs

9999

yes

Asset Allocation Plan

yes

15 Stock Recommendations

yes

Detailed Research Reports

no

Goal Based Financial Plan
FAQ
*100% Refund policy
Subscribers are entitled for 100% refund of annual subscription fees, minus applicable taxes, in case 1 year return for the stock advisory service from the date of subscription, is less than 3.5%. We don't charge you anything unless profits from our stock picks are more than savings deposit rate.
Performance will be measured at stock portfolio level. Cancellation & refund policy is applicable for Stock Advisory+ and Stock Advisory services only. There is no cancellation or refund policy for the combo offering
What do I receive in Stock Advisory service
In Stock Advisory service subscribers receive 15 recommendations per year, each supported by detailed research report.
Assuming 10 pages of report per stock on average, you will receive 150-200 pages of research report prepared by SEBI registered advisor.
In case 1 year returns from our stock portfolio fail to beat the hurdle rate of 3.5% – we don't charge you for our service.
What is the difference between Stock Advisory & Stock Advisory+ plans
Stock Advisory+ plan offers basic financial plan, covering Retirement Plan & Life Insurance Plan, in addition to Stock Advisory service
What do I receive in Retirement Plan
Estimation of retirement corpus to sustain your current (or desired) life-style at the time of retirement.
Monthly savings required to build the desired corpus.
Year by year estimate of expected corpus size, both before and after retirement, for continuous tracking and remedial measures in case of deviation
Refer to example plan, sections 5, 7, 8.
What do I receive in Life Insurance Plan
Estimated life cover required for your beneficiaries to sustain lifestyle in the unfortunate event of your demise
Indicative premium and product recommendations to achieve the desired cover
Refer to example plan, sections 9, 10.
What do I receive in Combo Plan
This plan is a combination of Stock Advisory and Comprehensive Financial planning service.
Comprehensive financial plan offers goal based planning for upto 6 financial goals, including retirement and life insurance goals.
In cases where more than 6 financial goals have to be supported, a small additional charge may apply on a case by case basis, depending on the number and complexity of the financial goals.
Refer to example plan.
FinancialPlan

How does it work?
Immediately after subscription, you will receive an email from us with a link to furnish certain financial details and participate in a short behavioural quiz that will be used for risk profiling & subsequent planning. Based on your response, you will receive your Personalized Reports based on your chosen plan.
Upon successful payment you will also receive access to your personalised dashboard immediately. You need to select the relevant subscription plan from the dashboard by clicking 'Enter'. This will take you to the 'List of Reports' page for the selected plan.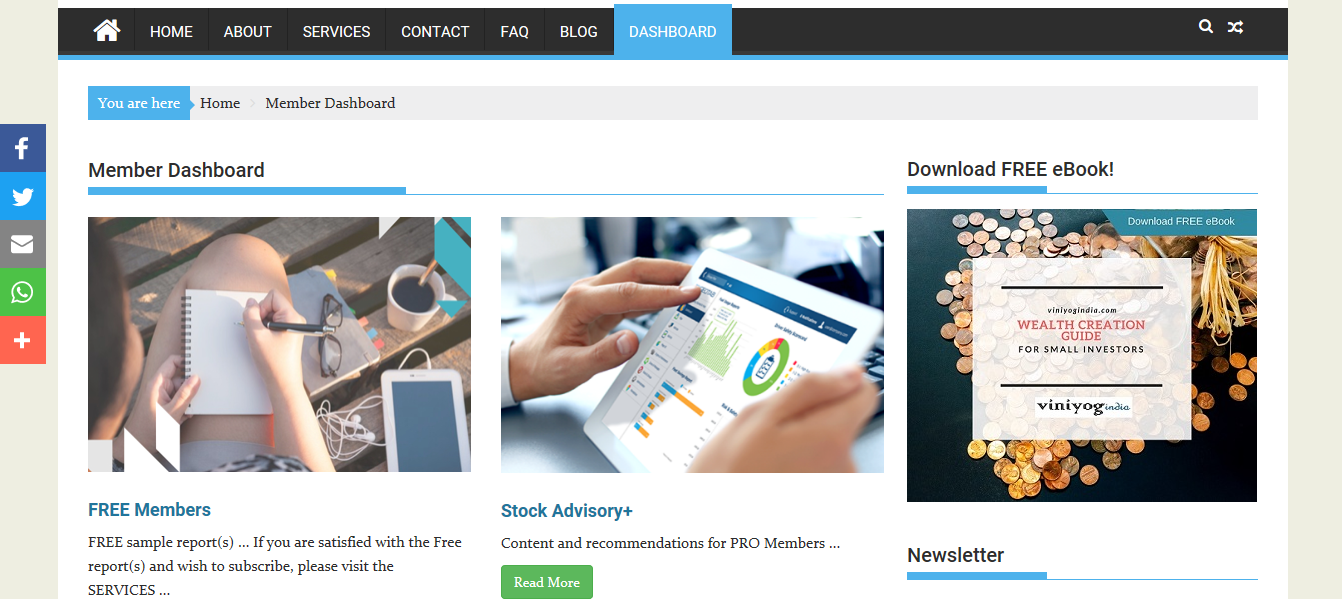 On the List of Reports page, you will find a list of stocks supported by detailed research report that you can review for investment.
2nd month onwards, you will start receiving new stock reports about once every month, till the maximum number of reports based on your chosen plan is reached. While we would prefer to maintain a defined level of periodicity in publishing the reports, this may not be always feasible due to market conditions. If such a situation arise, your membership will be automatically extended until all the reports committed for your plan are delivered.
Investment Objective & Suitability – what to expect from the reports
Investment objective is to beat market returns over long term. Therefore, stock advisory service will be suitable for long term investors only.
Each report will contain a detailed analysis of the company's business and investment rationale. You can choose to invest once you are convinced with our arguments. Representative reports can be found here.
Companies identified in this section are those that are expected to grow at 20-25% over next 2-3 years, unless otherwise stated. It is also expected that the stocks of these companies are available at reasonable valuation, so that their market capitalisation follow the earning trajectory under normal market conditions. Assuming a normal market, therefore, some of these stocks can potentially double in 2-3years or so.
Who should not subscribe?
Please do NOT subscribe if you:
Are looking for intraday ideas, short-term trades, technical analysis and frequent stock tips
Trade in derivatives segment, stock futures & options
Want to make a quick buck, double/triple money in few months
Reference
1. Morningstar, Inc.
2. John Bogle, Vanguard Group
3. Mark Hulbert, Hulbert Financial Digest
4. Barbar-Odean (2010)
5. CNBC