KEI Industries is one of the top three cable manufacturer in India engaged in making power and other industrial cables. Company also executes EPC contracts for turnkey projects.
Krishna Electrical Industries was registered in 1968 as a partnership firm with the objective of manufacturing house wiring rubber cables. Firm was converted to public limited company in 1992 with the corporate name KEI Industries.
Today KEI's product range include Low Tension (LT: <11KV), High Tension (HT: 11KV-33KV), Extra High Voltage (EHV: 66KV-400KV), House-wire (HW) & Stainless Steel Wires (SSW).
Company is headquartered in New Delhi and has three manufacturing facilities in Bhiwadi (Rajasthan), Chopanki (Rajasthan) and Silvassa (D&NH).
Story
Between 2005 and 2015, India's power generation capacity went up from 118 GW to 284 GW. While T&D investments lagged power generation, this has been picking up steam of late. The 12th FYP saw interstate transmission capacity grow by around 85%. Another 78% growth is planned in the 13th FYP (FY18-22). Further, target for 100% rural electrification program was achieved in April 2018.
KEI Industries, which is one of the leading cable & wire manufacturer in India stands as a key beneficiary.
GOI programs such as housing for all, railway electrification are expected to further add to demand of cable & wire.
KEI has been growing at 20-25% for the past few years, has strong balance sheet despite the growth, and available at reasonable valuations.
Industry Overview
Wire & Cable segment constitute around 40% of the electrical industry in India. Demand for wires and cables are high, growing at a CAGR of 15 per cent, boosted by momentum in the power and infrastructure segments. Market size of High Voltage cable > 132 kV is estimated at USD 300 million. Size of MV cable (11kV to 66kV) and LV cable markets are estimated at USD 900 million & USD1.8 billion respectively. Size of house / building wires is conservatively estimated at USD 800 million.
Developments in the Power sector over the last few years inspires cautious optimism about its future over near to medium term
In the 12th 5 Year Plan (FY12-17) – first time since independence, India exceeded generation target, and produced 99.2GW against 88.5 GW planned.
On the T&D side, both in FY16 and FY17, the central, as well as the total targets, in cKm, were overachieved
Government had set a target of 100% electrification of villages by electrifying 18,452 villages by May 2018 under 'Deendayal Upadhyaya Gram Jyoti Yojana (DDUGJY)'. This was successfully completed on 28th April 2018.
At the end of 12th FYP inter-regional transmission capacity (132kv+) stood at 69,050MW. The 13th FYP (FY18-22) plans to add 52,800MW, which is 77.5% bump over existing levels
In the previous decade, India saw significant additions in the generation capacity (with total installed capacity jumping from 118GW in 2005 to 284GW in 2015). However T&D investments have been lagging in relative terms. While interstate transmission capex has started picking up over past 2-3 years, distribution spend continued to lag due to precarious state of SEB finances. With government policies such as UDAY in place, the situation is improving and going forward T&D segment is likely to see investments to the tune of Rs 2.50 lakh crore over the next 6-7 years as per government estimates.
GOI announced the UDAY scheme in Nov-15 with an aim to turnaround the finances of state discoms. Unlike earlier restructuring packages, UDAY focused more on improving the operational efficiencies than merely increasing tariffs. As on March 2017, 25 states have signed MoUs to join the UDAY program. Despite several states joining the UDAY program, the power demand continues to be weak across the country. Weak power demand is a confluence of several factors like weak IIP and poor financial health of Discoms. However, it is important to note that states have already issued UDAY bonds to the tune of Rs 2.23tn till date, which is substantial, considering Rs 3.96tn of Discom debt. The same would certainly help in easing Discom finances for FY18E.
While low Plant Load Factor due to subdued demand, distribution losses, intermittent supply, struggling recovery and NPAs for banks are stark truths bogging down the sector, there is cautious optimism that the sector, in particular the T&D space may have brighter days going ahead.
Product Mix

Products cater to institution (37.3% cables + 18.7% EPC), retail (31%) and export (13%) markets. EPC alone constituted 18.7% of top-line excluding inter-departmental sales.
Product-wise revenue breakup for FY18 is: LT 41.2%, HT 14.5%, EHV 4.8%, HW 16.1%, SSW 3.3%, EPC 16.1%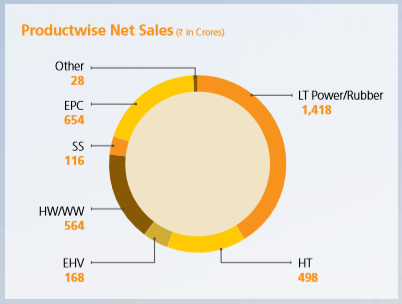 EPC Offerings
Key services offered by KEI include:
Turnkey power transmission projects of 66-400KV substations
EPC of EHV and HV cable systems
Electrical BOP, and
Electrical Industrial Projects
Turkey EPC projects consume substantial (37%) portion of EHV, HT & LT cables.
KEI has collaborated with multiple foreign partners for its product and services:
Cobra Engineers (Spain) for substation execution
Woosun Electric (South Korea) for Power Projects
Brugg Cable AG (Switzerland) for EHV cable production
Existing Capacity
End FY18 installed capacity was:
EHV cables 900 Kms
HT cables 7500 Kms
LT cables 93600 Kms
Rubber cables 3600 Kms
Winding, Flexible & House-wire (HW) 677000 Kms
Stainless Steel Wire (SSW) 6000 Kms
Utilization
As of end FY18, capacity utilization was 90% for cable division, around 61% for HW and 90% for SSW
Capex Plan
New Greenfield plant at Pathredi, 6Kms from existing factory in Bhiwadi was recently commissioned at a Capex of 55-60 crores in May 2018. Phase 1 will produce LT cables (15-30,000 Km). Production has stabilised for this facility. Work for Phase 2 already started and involves capex of 30-35 crores for HT cables. Commercial production for P2 is scheduled from March 2019. Together they are expected to add around 500 crores with P1 and P2 contributing 300 crores and 200 crores respectively.
Recently, Company bought Land & Building with investment of Rs. 16 Crore in Silvassa to further enhance capacity of House Wire which is already operating at 100% utilization. In 1st Phase Company will spend another approx. Rs. 39-44 Crore for Capacity of Rs. 300 Crore and in 2nd Phase Company will spend in next financial year Rs. 30 Crore which will add another capacity of Rs. 300 Crore for House Wire.
Over FY19-20, company plans to incur Greenfield capex of 150-200 crores to expand all segments except EHV.
Asset turn for Greenfield capex in cable is around 1:5.
Earlier, in FY17, company installed new 400KV EHV cable production line at Chopanki. (KEI had setup 66-220KV EHV line previously in FY10 in collaboration with Brugg Kabel, AG)
Marketing & Sales
Advertisement spend last year was 15 crores (up from 8 crores year before). Company is increasing focus on high margin business, which includes retail (11%), exports (11%) & EHV (12-15%). Pure EPC commands 11-12% margin.
Over the past 4 years, company's advertisement & sales expenditure has doubled and dealer network has increased 4 times. Healthy brand visibility through TV Advertisements, IPL, Customer Loyalty & Preferences
Geographically, 35% of sale happen from northern region, 25% from southern & western region, and 15% from eastern region.
Domestic retail sale is through dealer distributor network. As on end FY18, company had 1284 active dealers, a growth of 12% over previous year. Company plans to expand dealer network by around 10% every year.
Institutional demand is driven from key sectors such as Power, Refinery, Railways, Automobiles, Cement, Steel, Fertilizer, Textile and Real Estate. B2B sales constitute 56% of revenue, covering 19% pure EPC & 37% cables. EPC sale is primarily through tenders.
Exports constitute 13% of sale. KEI exports to 25+ countries, has offices in 5 countries, namely, Dubai, Abu Dhabi, Singapore, Nigeria & Kazakhstan. Company has agents in South Korea and Australia. Export margins are around 11%, against 9.8-10.3% overall.
Company has recently (Q3, FY18) announced setting up of a 49% JV in South Africa where it has been exporting for past 3-4 years. This will be in the form of a trading company and is expected to help operations, as local utilities gives preference to black empowerment companies. Also, clearances take time under the exiting mode.
Market Share & Competitors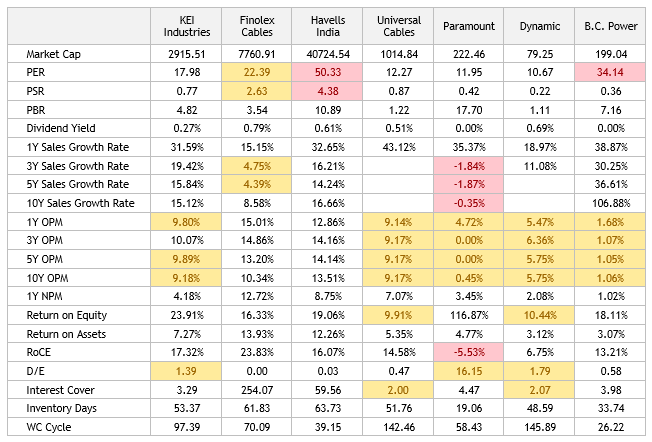 Major competitors in retail space is from Finolex Cables, Havells India & Polycab
In the EHV segment, only competitor is Universal Cable, rest is imports
Within the key players Polycab is not listed
Between the rest, Finolex is struggling to grow & it isn't cheap, even after correction.
Universal's performance over the years have been less consistent than KEI, with negative operating Cash Flow in 3 out of past 5 years.
Havells is a broader consumer electrical play and is richly valued.
KEI's margins aren't as good as Finolex's which is expected, however, considering the growth, consistency and valuations, it appears to be the best pick in the cables pack.
Although KEI debt on the book is relatively high, it is declining & reduction in interest cost will help improve margins further.
Promoter Holding & Recent Actions
As of March 2018, promoters held 46.26% shares. Total number of shares outstanding 7.82 crores. No recent acquisition or disposal after March. Also, company does not have any shares pledged.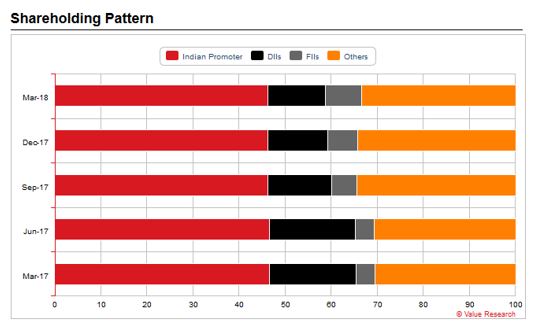 Financials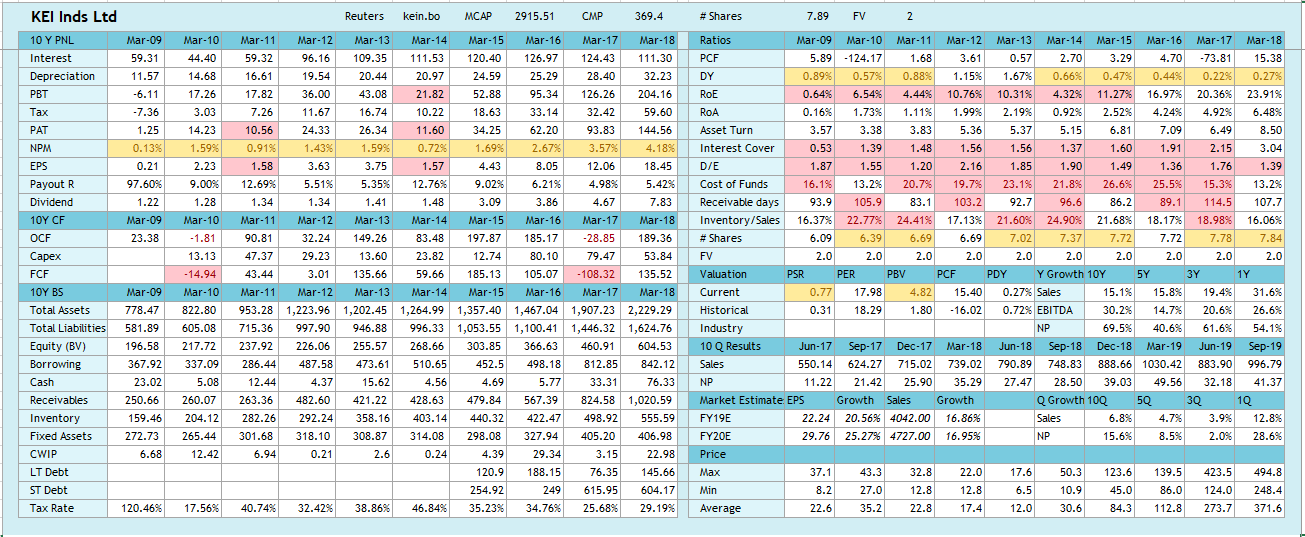 Debt & Liquidity
Gross debt is 780 Crs, same as last year (Long Term 197Cr, Working Capital 243 Cr, Unsecured Loan 36 Cr, Buyer's credit 191Cr, Bill discounting 30 Cr). Company expects to sustain debt at this level.
FY18 Cost of Finance: 113 Cr in FY18 (against 124 Cr FY17). Breakup: Term loan interest 15 Cr, WC interest 54 Cr, LT interest 19 Cr, bank charges 7 Cr, bank guarantee charges 8 Cr , other bank charges including processing fee 8 Cr
Receivable days is around 100-105. Retail has least receivable days and KEI intends to aggressively increase contribution of retail sale by another 10% from 30% at present.
Future Cash Flow Estimates
Retail segment has grown at 27% CAGR between FY15-17 to 810 Cr. Market size of EHV cable in India is around 2000 crores of which 25% is met through exports. EPC business has grown at a CAGR of 36% between FY15-17.
Management guided for a volume growth of 18-20% in FY19. Management also believes, past 3-4 years growth rate will be sustained in the coming 3-4 years
Pending order book as of Q2FY19 is 3941 crores (FY18 sales 3459 crs). EPC 42%, EHV 16%, Institutional cable 26%, export 16%.
Estimates based on Q2FY19 con-call:
Assumptions & notes:
Assumed full ramp-up of upcoming capacities in 2 years, linearly
Assumed 300cr LT capacity commissioned in 2018 to contribute 150 Cr FY19 & full 300Cr in FY20
EHV revenue 330 crore as per order book
Assumed 200 Cr HT capacity to be commissioned in Feb-March 2019, to contribute 100 Cr in FY20 & full 200 Cr in FY21
Assumed 300 Cr HW capacity planned for Mar-Apr 2019 to contribute 150Cr in FY20 & full 300 Cr in FY21
Marginally lower interest cost expected due to higher credit rating, debt to be maintained at same level
Inflation assumed at 5%
Price targets are based on past 3 years average PER
Risk Analysis
Competition risk: KEI operates in a highly competitive marketplace and faces threat from competitors. Company is trying to protect existing business by offering high quality products, strengthening dealer-distributor network, investing in brand building & improving visibility
Policy risk: EHV & EPC segments of the business are directly affected by government policies. KEI is strengthening retail business to minimize this impact
Cyclical risk: Company's fortunes are subject to volatility in interest rates & capex cycles. KEI is trying to mitigate by diversifying business & increasing export
Exchange rate risk: Company's export earnings & cost of imported raw materials are dependent on exchange rates; adverse movement has impact on margin. Company monitors exchange rate closely and tries to manage export order book as needed. Further, company maintains inventory of 90 days raw material, WIP and finished goods & counter balances by securing orders. Additionally company's exports constitute roughly 15% of sale with offers a natural hedge (albeit partial) against raw material imports (mostly copper, at around 60% of input)
Raw material price fluctuation: KEI is exposed to volatility in key raw material such as copper and aluminum, which can adversely impact profitability. Company tries to recover the change from the customer, however ability to pass-on depends on prevailing demand-supply dynamics. Further company has price escalation clause for large orders and three-month price validity clause for smaller projects.
Past 1 Year Price Chart