Results Summary

STPL Q1FY19 Earnings Note & Concall update
Notes from management concall, for Q1FY19
Guidance:
EPS guidance for FY19 & FY20 are 3.5 & 6.5 per share respectively (before dilution). Q1 EPS is 0.6 & FY18 EPS was 2.37/2.33 before & after dilution
FY19 EBITDA margin guidance is 16.5% for the full year (Q1 13%), estimated EBITDA of around 762 crs
Top-line growth forecast is around 20% for the next 2 years in CM. Q1 YoY top-line growth for Custom Moulding business excluding excise is around 21%
Net debt as on date is around 3164crs, this expected to come down by 300/400 crs to around 2800 crs by end of the year
Free Cash Flow estimates are around 550 crs & 700 crs for FY19 & FY20 respectively
FY19 depreciation is around 210/220 crs estimated
FY19 finance cost estimate is around 275/280 crs
Net Debt / EBITDA target is 2.3 by 2020
Contribution of prefab business is expected to be around 800/900 Rs for the full year. May come down by another 100 crs in FY20 – but no significant decline expected in FY20. EBITDA contribution in FY19 will be 90/110 crs
Additional Commentary
Despite the negativity surrounding the stock and continuous decline in share price, management is of the view that street is failing to recognize the significant improvement in the earnings quality. Expenses which technically qualify as capex are being recognized as opex in PNL. Consequently, while the growth in profits are muted, the capex figures have significantly gone down, to around 21 crs only for Q1Fy19
Distribution & organization structure completely revamped, with separate CEOs for Retail & Institutional business. New distribution model introduced in 2 regions (North & East?) for 2 products – tanks & doors, & the initial results appear to be promising. Deployment across all regions expected to be complete by this year
Q4 should see a significant jump in earnings (historically this has been the best quarter for the business)
New product in auto space – Urea Tank for BS-VI diesel vehicles. 3-4 players in India, one being manufacturer & rest importing from China & S. Korea. STPL expects additional revenue opportunity of 350/400 crs from this segment, with peak demand coming from September, 2019
Utilization is around 65-70% – no immediate capex required
Cash Flow Estimates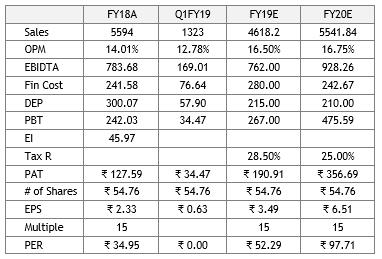 Notes
FY18 CM revenue was 3818, including excise, which is expected to grow by 20% YoY
FY18 Prefab revenue was 1718, including excise, which is expected to come down to 850 Cr in FY19 & 750 Cr FY20
FY18 combined topline estimated as 3818x(1/1.125)x1.2 + 850 = 4923. If we assume 15.5% margin, then EBITDA comes to 763
While CM has grown by 21% in Q1, margins have declined from 14% in FY18 to around 13% in Q1. Decline is due to increase in employee cost (unlikely to change) + potential increase in costs due to including certain items which technically qualify as capex, as opex. This component has to decline, plus some operative leverage has to kick in as utilization increases
Assumed 16.75% EBITDA for FY20 on account of operating leverage
Either the margins have to expand significantly from current levels or CM has to grow by more than 20% for the story to hold ground. Actually FY17 margins were around 16.9%, higher than my optimistic FY20 estimates, so the feasibility of margin expansion cannot be ruled out

ACE Q1 FY19 Earnings Note & Concall update
Q1FY19 operational performance: Sales Up 72%, PBT Up 391%, PAT Up 342%
Second half contributes around 55-65% of the revenue
Export contribution at 5%. Expected to grow at 7-8% by end of the year. Main area of focused being Africa , Continental South America, Middle and some SAARC & Asian countries as well. Long term target is 15-20% contribution to de-risk cyclical nature of business
Exports tie-up with Ursus (Polish tractor manufacturer): 2/3 months away from definitive agreement
FY19 guidance: top-line growth 35%+, margins ~ 11%
Growth projections: Cranes – 35%, CE (Backhoe loader) – 70-75%, Material Handling – 30-35%, Agri – 20-25%
NWC – 25 days, creditor days 75, Inventory days down to 60 (from 65 last Q)
On YOY basis – Manufacturing expenses gone down by 1 %, Employee expense gone down by 2.7-2.8%, Selling and distribution expense also gone down by 0.6 %. Around 60% expense if fixed & 40% is variable
Capacity Util – Cranes 75%, Construction Equipment 30-35%, Material Handling 50%, Agri – 50%
Ongoing capex for cranes of around 20-25 crores. Executed in 2 phases. Phase 1 to be ready by Oct-Nov. P2 will be construction of a paint shop. Expected to add 500 Crores to top-line (TBC) TTM is ~ 1200 crores
QoQ margin is down by around 2.5% (YoY expanded) due to higher raw-material cost (mainly steel). 2-3% price hike is pending – competitors have already announced, buy ACE is yet to take the hike. But steel price is softening, long products are down by around 5%. If the trend continues, management might skip the price hike.
Full Year tax rate at 27% (R&D 50% rebate, Other Income – Mutual Funds)
Market share
• Pick and carry crane – 63 % plus
• Mobile tower cranes – 85-90 %
• Fix tower cranes – 60 %
• Crawler Cranes up to 75 tons – 30-35 %
• Tractors and Back hoe loaders- Miniscule
• Forklift 20-22
Q1 Volumes
• Cranes – 1639 compare to 950 last year same quarter
• Mobile tower cranes – 19 compare to 14 last year same quarter
• Fix Tower Cranes – 46 compare to 26 last year same quarter
• Roller Cranes – 8 compare to 1 last year same quarter
• Tractor – 1008 compare to 415 last year same quarter
• Backhoe Loader- 63 compare to 38 last year same quarter
• Forklift – 253 compare to 188 last year same quarter
• Soil Compactors -50 compare to 20 last year same quarter
• Motor Graders – 13 compare to 3 last year same quarter
• Truck Cranes – 4 compare to 3 last year same quarter
• Rotovaiters -342 compare to 131 last year same quarter
60% cranes produced goes to infrastructure, 40% to industrial engineering activity & logistics
Management thinks 30-35% CAGR for next 5 years is possible if BJP government returns to power 
Additional notes:
Commentary is largely in line with Q4FY18. Few points worth noting:
Export guidance is marginally down to 7-8% for FY19 from 8-10% earlier projected in Q4. Appears deal with Polish tractor manufacturer Ursus may be slightly behind
Utilization numbers are same as Q4. Although volumes have gone up – bit unusual considering company is doing capex for cranes
Margins are down ~2.5% QoQ to around 8%. Despite that, management has stuck to full year guidance of 11% – arguments being: raw material price are declining (which caused the margin erosion), also H2 being the key contributor, accounting for 55-65% of sales.