Emmbi Industries Limited (earlier Emmbi Polyarns Ltd.) is involved in manufacturing of woven polyethylene and polypropylene products. Company is engaged in the manufacture and sale of FIBC (Flexible Intermediate Bulk Containers) and Woven Sacks and various woven polymer based products like Container Liners, Protective Irrigation System, Pond Liners, Flexi Tanks, Car Covers etc. Emmbi is promoted by first-generation entrepreneurs, Mr. Makrand Appalwar and Mrs. Rinku Appalwar and was established in November 1994.
Company came out with an IPO of around 40Crs in February 2010 to raise capacity from 2.5mmt to 7.5mmt. As of June 2018, company has a capacity of 24mmtpa
The name Emmbi is derived from the initials M and B from the founder's father's name, Mr M B Appalwar. Company has manufacturing facility located at Silvassa in Gujarat.
Story
Global demand for bulk container packaging is expected to grow by 9.5% CAGR between 2017 & 2022 as per Zion Research. India has emerged as the largest global supplier of flexible bulk containers, including FIBC, liquid tanks, container liners, etc. Emmbi Industries is one of the leading manufacturers in India and is expected to be one of the key beneficiaries of this demand.
Company has been incrementally conducting expansion to cater to demand. Recently it concluded project to expand capacity from 18mmtpa to 24mmtpa for Food-grade packaging (2.4mmtpa) and pond-liner (3.6 mmtpa) segments, at the cost of 22crs and expected asset turn of 4x. This is expected to grow top-line by estimated 33%.
India supports 16% of human population on 4% of world's fresh water reserves. Company's focus on water preservation is a step in the right direction, not only from business perspective, but also to address an issue that has been long subject to administrative neglect, mismanagement and indifference.
Shareholding pattern
As of September 2018, promoters hold 57.78% shares – unchanged for the past 5 quarters. FII holding is at 6.92%, while the rest 35.24% is owned by others.
Entire 6.92% of FII holding is owned by Singapore based Hidden Champions Fund.
Among domestic institutions, iThought Wealth (Shyam Shekhar) owns 1.56%
Earlier in June 2018 Q, individual S. Sekhar (

Shyam Sekhar

?) had entered the scrip as an individual with 1.21% stake, but his reference could not be found in Sep Q
*Deven Choksey, promoter of KR Choksey Investment attended the Q2 con-call, which was bit unusual for such as small company.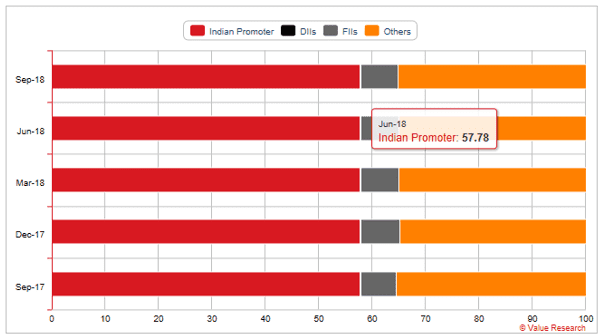 Graphics source: valueresearchonline.com
Pledge
None, as of September end 2018
Cash Flow Estimates
Cash Flow estimates, based on September 2018 con-call: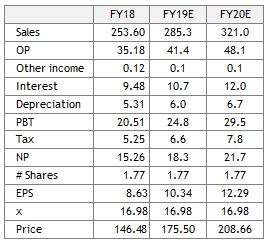 Assumptions
Topline growth of 12.5% for FY19 and FY20 (management guidance of 15-18%)
OPM of 14.5% in FY19 & 15% in FY20 (against management guidance of 15% for FY19)
No significant capex is planned for next 15-20 months
Effective tax rate of around 25%
PER multiple based on last 5 years average.
Product Mix
Water Conservation (17.5%) – pond liner, canal liner, collapsible pipe, check dam, flexi tanks
Advanced Composites (46.12%) – UN certified FIBC, anti-corrosive films & fabrics, electrically conductive polymers, packaging of hazardous material, water slug separator
Speciality Packaging (33.28%) – construction FIBC, packaging barrier films, urban waste disposal
Agro Polymer (3.10%) – mulch film, crop cover, shade net, silage incubator
Advanced composites have certain additional properties attached to the polymer. Such as aroma lock (for tea, coffee packaging), anti-corrosive, electrical conduction, etc. At least one additional property, sometimes more. (Q2FY17 transcripts P6)
Historically, Emmbi has been a B2B company. FY17 B2C sales contribution was around 3.5% (q2Fy18 transcripts). In FY18 – this has grown to around 10%. Management's aspiration is to generate atleast 25% of sales through B2C route by FY20 (Q1Fy19 transcripts)
Water conservation segment caters mostly to B2C market, and its share in the revenue mix has been growing slowly – this is expected to continue. Share of speciality packaging is expected to come down & replaced by advanced composites.
In the water conservation segment, company is trying to offer end to end solution to farmers, by tying up with excavation partners, installation operators, post sales service etc. (company had 15 excavation partners as on Q2FY18). Company recently (December, 2018) announced tie-up with Bank of Maharashtra to provide financing to farmers/customers intending to buy pond liners, which cost around 1.75-2L. Scheme is named MAHABANK- EMMBI JALASANCHAY SCHEME and is aimed at water conservation for drought laden state of Maharashtra. Similar financing arrangements are also being put in place with ICICI & Axis Bank. Company is also trying to setup distribution network. Management has set next 2 years' time to establish this framework by 2020, beyond which further expansions are expected to happen in retail segment.

Source: P9 investor presentation, Q1FY19
Capacity Expansion Plans
Following 2 expansions were concluded in 2018 to add 6000 mtpa of additional capacity, at a total cost of around 22 crores:
1. 3600 mtpa of water conservation/ pond liner capacity
2. 2400 mtpa of food grade packaging
This should add around 35 crores plus 55 crores = total 90 crores to topline (Q2FY18 concall P10) in 6-8 quarters. By 2020, these capacities should add additional 80-100 crores to topline.
No significant capex is planned for FY19 and FY20, except for some de-bottlenecking and maintenance which should cost around 5 crores per year (Q2FY18 transcripts).
Raw material
Polymer granules.
Basic raw material is mostly PP which is procured from Reliance where company has to pay advance.
Raw material is crude derivative:
Crude –> Naptha –>  Propane –> Polypropylene –>  Emmbi's final product
If somebody wants to convert crude into a polyethylene or polypropylene or polystyrene, first they will have to crude, then cracked to naphtha, naphtha becomes propane, propane becomes polypropylene, polypropylene becomes final product (q2fy17 transcript, p8).
As per management, raw material cost does not have significant correlation with crude price as its 3rd/4th derivative. Company follows no speculation strategy and maintains inventory equivalent to order book position.
Financials
Past 10 year financials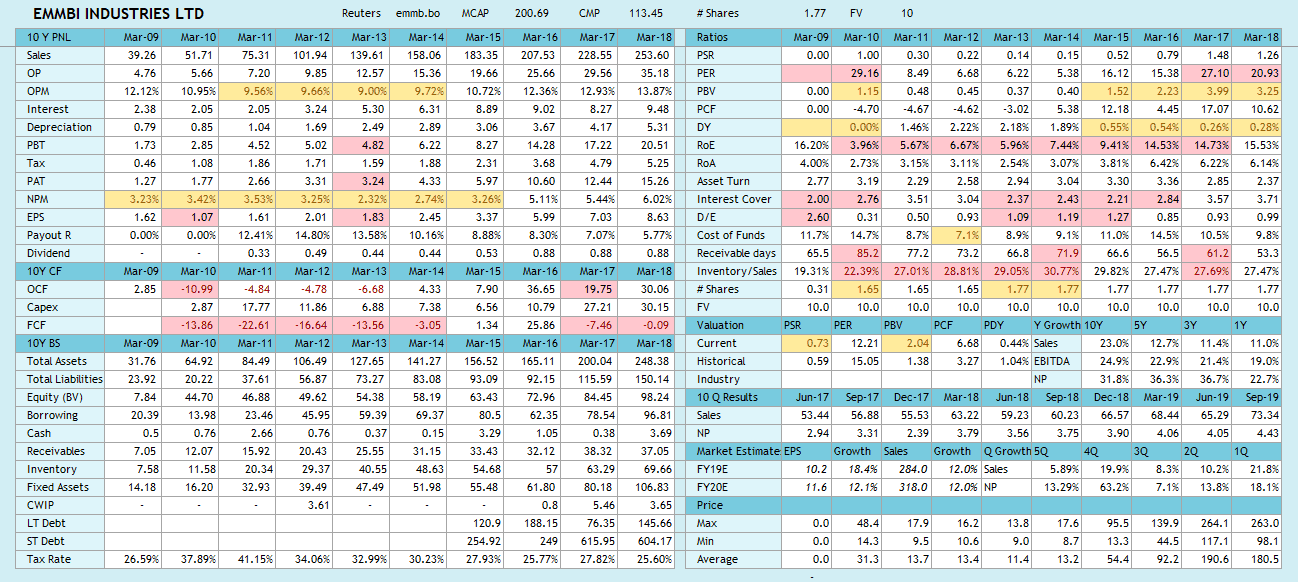 Debt outlook and liquidity
Total debt as on Q1FY19 was 81 crores (LT 27 crores, ST 54 crore)
Working Capital cycle is around 110+ days. Management is trying to bring it down to 100 days by FY20 and around 90-100 eventually.
Receivable days is around 60 days. Inventory turn is around 28-29% (~ 100 days). Combine this with advance payment requirement for raw materials (procured from reliance), overall WC days of 110+ days one of the biggest negatives for the company and there is no possibility of improving it in any meaningful manner in near future. (Q2FY17 transcripts)
D/E is < 1 and Interest coverage is around 3.7 as on end FY18 (company expects to repay 8-10 crores of debt each year, Q1FY19 transcripts)
Marketing, Distribution & Sales
As of FY18, 90% of sales was from B2B, 10% was B2C
Export: domestic break-up is around 42.5%-57.5%
US & Europe are the export destinations for the company.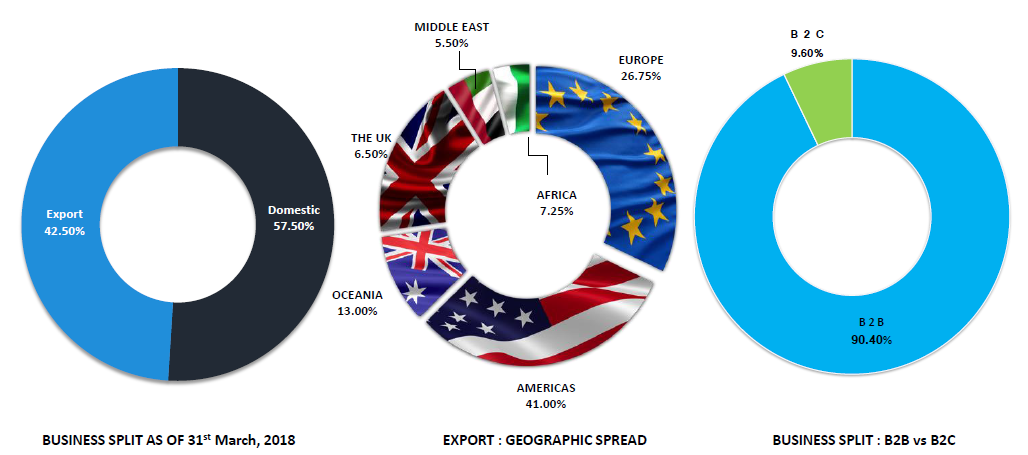 Company is trying to grow its retail business. As of end FY18, Emmbi had around 90 distributors (Q4FY18 presentation, p5)
Industry Overview
Global scenario
Global polymer consumption has grown 4x in past 2 decades.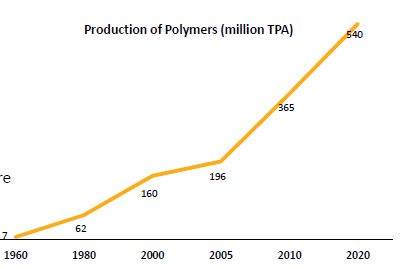 FIBC history
FIBCs – flexible and collapsible giant-sized bags meant for carrying up to 2500 kg powdery or granulated material – were first made in late 1950's in the United States and Europe using heavy-duty PVC-coated nylon or polyester.
However, the real growth of FIBCs that are globally used today was seen with the development of high tenacity light-weight polypropylene fabric in late 1960's to early 70's which reduced the cost of FIBCs substantially.
The oil crisis of 1970's necessitated transportation of large quantity of cement from Europe to middle-eastern countries which popularized the use of FIBCs in Europe paving way for its usage for various similar products. In the U.S., the use of FIBC really came into being when the U.S. department of transportation allowed hazardous materials to be transported in FIBCs.
In India, FIBC production was started in 1990's – mainly for export. Within a span of 25 years, today India is the world's largest FIBC supplying-country.
FIBC market dynamics
Between 2013 and 2016, FIBC (Flexible Intermediate Bulk Container) market size registered a growth rate of 8.13% from 2800 million $ in 2013 to 3540 million $ in 2016.
According to a report published by Zion Research, global demand for bulk container packaging market was valued at USD 2427.00 Million in 2014, and is expected to generate revenue of USD 5035.00 million by end of 2022, growing at a Compound Annual Growth Rate (CAGR) of slightly above 9.5% between 2015 and 2022.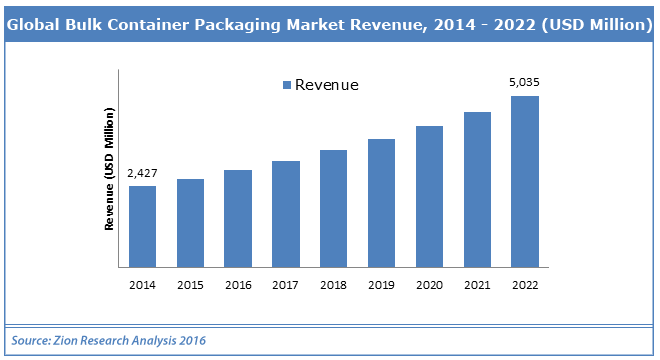 Rising exports of wine from Europe and vegetable oil from Southeast Asia is one amongst the major factor propelling the overall bulk container packaging market size in the near future.
In 2013 more than 30% of the total edible oil exports from Southeast Asia was done through flexitanks owing to its high operational efficiency along with low cost. Flexitanks are widely preferred in the foodgrade product such as malts, edible oil and fruit concentrates, beverage and non-hazardous chemicals transportation due to its high efficiency along with superior protection against contamination. These tanks offer value added traits as compared to prevailing substitutes including barrels and drums. It is easily disposable, and hence there is no associated cleaning cost as in the case of tank containers and barrels. This, in turn, diminishes the product contamination risk. In addition, flexitanks can transport over 20 times more quantity of liquid than other substitutes in the same cost.
Moreover, the rising commodity trade in BRICS nations is projected to open new growth opportunities for bulk container packaging in the years to come.
Domestic scenario
The Polymer sector in India is estimated at over $73 billion, and this is expected to grow at upwards of 8% over the next five years. Despite being one of the world's largest economies, India lags in the consumption of technology polymers at just under 10kgs while world average is 30kgs India's consumption of polymers is at one-third of global average, urbanization is expected to drive consumption. (Emmbi ARFY18)
The plastic industry (exports) of India registered a growth of 17.1% touching the mark of US $8.85 billion during the year 2017-18 registering a stronger growth as compared to the overall merchandise exports which noted a growth of only 9.9% to US $303.3 billion. The exports of plastics formed 2.92% of India's overall merchandise exports in FY18 gaining a marginal rise of 18 bps than the previous year. The boost in exports was primarily due to an increase in exports of plastic raw materials and value-added plastic products like woven sacks/FIBC, plastic sheets, optical items etc, mainly to United States, China, UAE etc who account for 25.7% of India's plastic product exports by value.
Export of FIBC/Woven Sacks recorded 715.68M in FY18 registering a growth of 23.6% from previous year .
In India, FIBC production was started in 1990's – mainly for export. Within a span of 25 years, today India is the world's largest FIBC supplying-country commanding 42% of global FIBC market share (Emmbi Q1FY19 concall). Other key players are Turkey, Mexico and China. India is gaining market share due to issues in competing nations (Turkey – currency, China – labour costs, etc.) and expected to reach 50% share. Advanced Composites & Speciality Packaging segments contributed to around 80% of company's revenue in Q1FY19. These 2 segments are expected to grow at 10-15% annually going forward.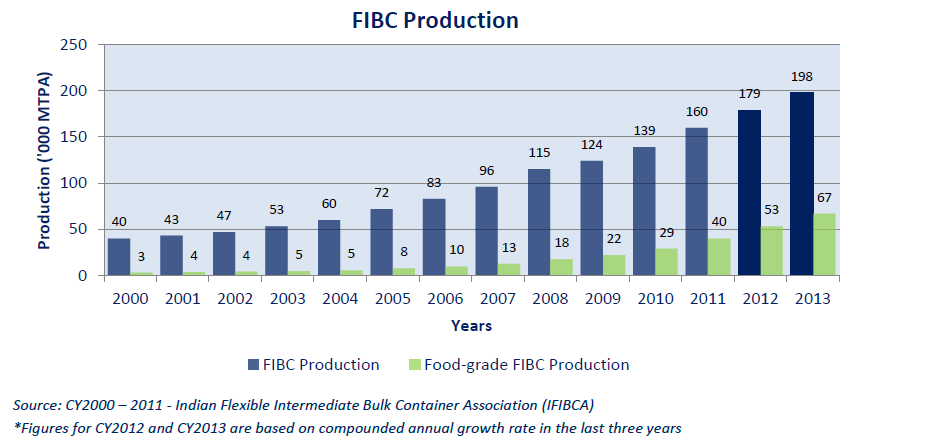 While the usage of FIBC in India is in its nascent stage, it is believed that over next decade India would be the world's largest FIBC-consuming market.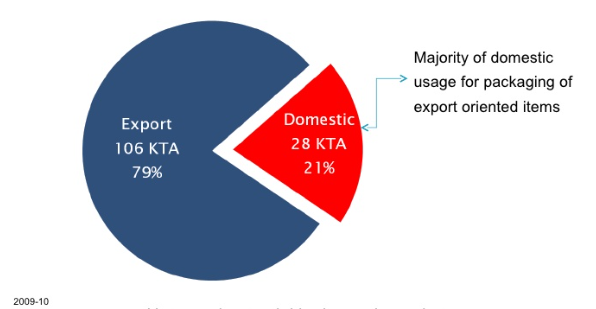 Source: Haldia Petrochemicals, 2010
Pond liner market dynamics
The global pond liners market was valued at US$1.09 bln in 2016 and is anticipated to reach US$2.32 bln by 2025, expanding at a CAGR of 8.9% between 2017 and 2025, as per Transparency Market Research. (USD 2.5B as per management in Q1FY19 con-call)
Water conservation segment contributed to 17.5% of revenues in Q1. (Around 50 crs annually). According internal estimates of the company, number of ponds sanctioned in Maharashtra & Rajasthan are 1.75L and 50K respectively*, which is equivalent to a potential market size of 3000 crs. (Single pond costs 1.75L – 2L) for these 2 states only. Emmbi intends to gain 10% market share in these 2 states, and expand to other states further. Company has been conducting test runs in other states such as Karnataka, MP, Gujarat, hilly areas, etc.
Competition
Of the 25-30 players in the Indian FIBC industry, only 10 players have large capacities. Further, apart from competing amongst themselves, Indian players will continue to face competition in the markets of Europe from players in Turkey (which benefits from proximity to EU market) and China (which has low cost advantage). Turkey continues to be one of the largest exporters to Europe.
Source: screener.in
Common trend is high working capital cycle, with moderate (10-15%) to low (<10%) operating margins (less than 15%).
Emmbi Industries and Kanpur Plastipack are relatively large in terms in market cap and also financially better managed. Kanpur Plastipack's sales growth had been muted due to capacity constraints, but that has been recently resolved now through the commissioning of additional capacity. Shri Jagdamba Polymers appears interesting although the scrip isn't liquid and there is very little information available about their business in public domain. Emmbi has a diverse product range; has decent management and have been providing good shareholder communication. Additionally, foray into B2C segment has potential to bring down receivable days aside from improving growth.
Risks
Flexible intermediate bulk containers, made of woven polyethylene or polypropylene bags. Major raw material including PE or PP, used in the bulk container packaging market share are petrochemical derivatives, therefore the industry is to certain extent influenced by price oscillations of crude oil.
Limited pricing flexibility and susceptibility to intense competition: Of the 25-30 players in the Indian FIBC industry, only 10 players have large capacities. Further, apart from competing amongst themselves, Indian players will continue to face competition in the markets of Europe from players in Turkey (which benefits from proximity to EU market) and China (which has low cost advantage). Turkey continues to be one of the largest exporters to Europe.
High Working Capital cycle: Company's working capital cycle is high at around 110 days as of end FY18. This is in-line with its peers as this industry operates on high WC cycle in general. Management aims to bring it down to around 100 by FY20 and subsequently between 90 and 100 in the medium to long-term. Company's gradual shift towards increased B2C orientation of the business is expected to help in this regard.
Forex risk: As an export oriented unit an around 50% of the Company's sales are in Foreign Currency across all three major Currencies viz – US$, Euro and GBP and is exposed to substantial risk of change in foreign exchange rates. Emmbi has a documented internal policy to hedge all its export revenues, and it has limited exposure to foreign currency borrowings. The company also does not trade, or speculate in the foreign currency market or make any opportunistic positions.
Financial Risk: Emmbi's capital structure is conservative. Also the fair value of assets, exceed the book value providing additional buffer in the event of a remote outlier. Company also have rated investment grade with a positive outlook on our debt, and in the next few years this is likely improve given the growth in the business. In addition company does not rely on one lender, and have multiple banks, and are constantly engaging with newer banks, in order to improve the financial efficiency of the company.
1 Year Historical Price Chart