JSPL is the 5th largest steel maker in India in terms of installed capacity. Company also operates Independent Power Plant (IPP) of 3400MW capacity and owns coal mines in India & abroad.
In FY18, standalone business produced 4.02mt of steel against an installed capacity of 8.6mtpa. Capex is already in place and the steel business in India has headroom to grow by more than 100%.
Steel is a cyclical business, currently in upturn due to capacity cuts in China and improving demand globally as well as in India.
Higher realisation due to cyclicality, combined with improved utilization and resulting operating leverage is expected to provide significant boost to earnings and profitability over the next couple of years.
Improvement in PLF of the IPP and development or monetisation of international mining assets can provide further kick to earnings.
Story
JSPL has grown by nearly 3x in terms of installed capacity over the past 4 years. The most significant milestone was commissioning of the 5mtpa integrated steel plant in Angul, which is currently ramping up and expected to run at optimal capacity by Q2FY19. In FY18, JSPL produced 4.02mtpa from its India facilities, against an installed capacity of 8.6 mtpa. Company's India steel production is expected to double over the next 1-2 years which should reflect in the financials.
JPL, it's 96% power subsidiary, operated at 31% PLF in FY18. Company produced 1237MW against an installed capacity of 3400MW last year. PLF of the IPPs have been consistently declining over the past few years due to coal shortage and rapid addition of renewable as well as conventional capacities. However governments program of "24×7 power for all" is expected to increase demand. Management has seen some uptick in PPS signings and expects to operate at around 50% PLF in FY19.
JSPL's key international assets include 2mtpa integrated steel plant in Shadeed, Oman, and 6.2mtpa coal mines spread over Australia, SA and Mozambique. The Steel Plant at Shadeed produced 1.67mtpa in FY18 against an installed capacity of 2mtpa, with a headroom to grow by another 10-15%. The mining assets however, have been loss making historically, and there is an opportunity to develop or monetize these assets in future.
Industry Overview
Global steel demand is expected to grow by 1.8% in 2018 and further by 0.7% in 2019. India remains the fastest growing steel market with projected growth rates of 5.5% and 6% for the corresponding years.
In terms of per-capita steel consumption, India rank among the lowest, at 63Kg, against Asia average of 254Kg, China average of 493Kg and Global Average of 208 Kg. National Steel Policy 2017 aims to increase per Capita Steel Consumption to 300Kgs by 2030. This is a massive jump from the steel consumption of 90.68 Mt in fiscal year 2018, and will be largely driven by investment in infrastructure.
The government has stepped up infrastructure spending from the current 5 per cent of GDP to 10 per cent by 2017, and the country is committed to investing USD1 trillion in infrastructure during the 12th Five Year Plan. Considering 15 per cent as steel component in the total investment, the initiative has a potential to generate an additional demand for steel of 18.75mtpa
The central government has further stated that all the government tenders will give preference to domestically manufactured steel & iron products. All this is expected to boost steel demand.

Consumption of steel in India, source: IBEF
Global scenario
Global steel production in 2016 was 1629MT, against a demand of 1515MT. Of this, China's produced roughly (49.6%) or 808.4MMT. China's overcapacity has been a source of international tension for well over a decade, sparking complaints from foreign steelmakers over low prices, hidden subsidies and unfair export competition. Global steel prices collapsed due to flooding of cheap steel from China resulting in demands of capacity rationalisation.
China also had reasons of its own for tightening up on steel, which has been a major source of coal consumption and smog. Back in 2016, Chinese government announced a five-year plan to reduce annual steel production capacity by 100-150 million tons, or up to 10% of overall capacity by 2020 to tackle bloated capacity and environment pollution
Since then, Chinese officials claim 55 million tons of steel production capacity was eliminated last year in 2017, following a cut of 65 million tons in 2016. Further, Premier Li Keqiang set a target of reducing steel capacity by 30 million tons in 2018. If target is met, China will achieve its overall steel capacity cut goal ahead of schedule.
Consequence of this capacity rationalization has been lower exports from China, which was down by 48% in March 2018 from August 2015 levels. This has resulted in better steel capacity utilization globally and higher realization.

Company Overview
JSPL is one of the largest integrated steel maker in India with an installed capacity of 5 mtpa at Angul, 3.6 mtpa at Raigarh and 2 mtpa at Shadeed (Oman). It also has long and flat finished steel-making capacity of 6.55 mtpa. The company operates the country's largest 9 mtpa pelletization complex at Barbil (Odisha).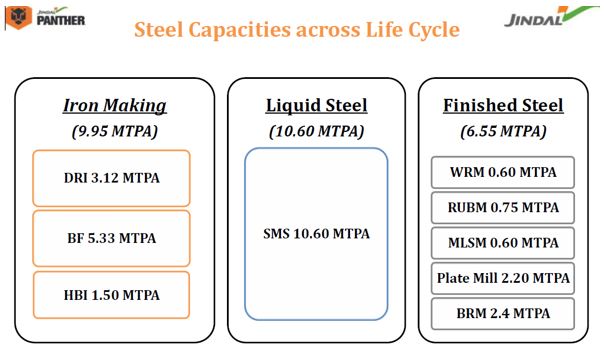 It has 3.11 mtpa iron ore mine in India (Tensa in Odisha) and 6.2 mtpa coal mines in South Australia and Mozambique.
The company has power generation capacities of 5,050 MW which includes the Jindal Power Limited's 3,400 MW OP Jindal Super Thermal Power Plant at Tamnar (Chhattisgarh) and captive power generation capacities of 1,650 MW at Chhattisgarh and Odisha.
Principal business
Product mix
Steel
6.55 mtpa of finished steel:
Flat Products: 2.2mtpa (34%)
Long products: 4.35mtpa (66%): BRM 2.4mtpa, RUBM 0.75mtpa, WRM 0.6mtpa, MLSM 0.6mtpa
3.05mtpa of Semi-finished (9.6 – 6.55)
Power
3400 MW (29784 mu)
JPL sales through PPS as well as energy exchange
Raw material
Key raw materials include, Iron Ore, Coking Coal and Coal. To make 1 ton of pig iron in blast furnace, requires around 1.25 tons of Iron Ore, 0.75 ton of coke, 0.25 ton of limestone and 4 tons of air.
Iron Ore
JSPL sources Iron Ore from captive mines and long term alliance with miners. Company has 3.11 MTPA of Iron Ore mine in Tensa, Odisha which is 200Km from the steel plant in Angul. It mostly produce fines. JSPL has 9mtpa iron ore palletisation plant at Barbil that processes the fines to produce iron ore pellets.
In FY17, Tensa mine produced 0.6mtpa of sized ores + 2.1mtpa of fines.
At 9.95mtpa of iron making capacity, company would require around 12.5mtpa of iron ore at full capacity in theory, suggesting large part of iron ore has to be purchased from external sources.
Coke
Coal is converted to coke in coke oven battery by destructive distillation process (Coal is heated in absence of air at 1000 – 1200 degree C to remove volatile compounds. The residual mass is high in carbon content, hard & porous and called coke). Around 1.6t of coking coal is used to produce a ton of coke.
JSPL has 2mtpa coke oven battery at Angul.
In FY17, coke ovens produced 0.82mtpa of coke (against 2.2mtpa of hot metal)
Company owns 2 coking coal mines Australia operated by Wollongong Coal Ltd with combined reserves of 122.7 million tonnes. Over the past couple of years (FY18 & FY17), production was around 0.1mtpa due to various operational issues. As per management issues are sorted now and production should improve in FY19
Most of JSPLs coking coal requirements appears to be met through exports (India doesn't produce much & its mines in Australia had been facing operational issues)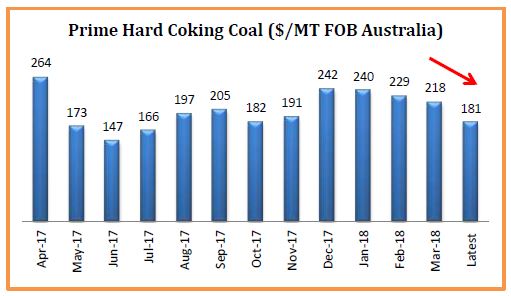 Coal
Coal is used for two purposes. It is used as a raw material for sponge iron production, as well as a fuel in thermal power plants (captive as well as merchant)
JSPL owns captive coal mines in Mozambique and South Africa.
In India, Supreme Court in 2014 cancelled most of the coal blocks allocated through screening committee between 1993 and 2014, additionally, fined Rs 295 per MT for coal extracted from the operational mines during this period. Consequently, JSPL's allocation of the coal blocks, Gare Palma IV/1 (operational); Utkal B-1, Amarkonda Murgadangal, Gare Palma IV/6, Ramchandi, Urtan North and Jitpur (non-operational) to the Company/its joint ventures were de-allocated. Further, JSPL had to pay a fine of Rs 3267 crores for extraction from the operational blocks which it did under protest. Company has challenged this order and this petition is still pending. Out of this 3267 cores, 1356 Cr is from shale, rejects & ungraded middlings + 1912 crores from coal excluding shale, rejects, etc. Company is showing 1356 as recoverable, which management is sanguine of recovering.
Additionally, company has booked various investments & expenses as advance relating to legal disputes against which no adjustments or provisions have been made. Management is of the view that differences if any will be accounted for as and when case is settled.
Subsequent to de-allocation, company meets its coal requirements through coal linkage, e-auctions etc. , as well as imports from captive mines in Australia & South Africa.
JSPL has a 5 year long-term coal linkage of 1.18 million tonne per annum (MTPA) for its captive power generation plants at Dongamahua and Raigarh in Chhattisgarh
JSPL's captive power plant in Raigarh is located on a coal pit head.
In FY17, 60% of coke and coal by value was sourced through imports and 40% sourced from indigenous sources.
Existing capacities & technology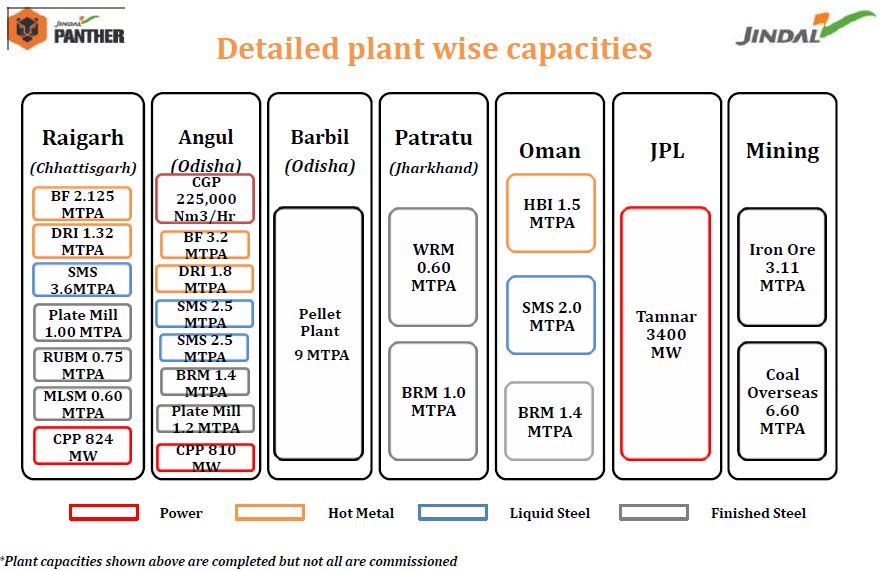 Angul, 5 MTPA
Blast Furnace, 3.2 mtpa (largest in India) can produce upto 2,000 mt of hot metal every day
4mtpa sinter plant (India's largest), 0.9 mtpa coke oven
1.8 MTPA DRI plant based on Synthetic Gas (world's largest) based on Coal Gasification Process (CGP). This along with 1.32 mtpa DRI plant at Raigarh makes JSPL world's largest Sponge Iron producer
250 T EOF based SMS, capacity 2.5mtpa
250 T BOF based SMS, capacity 2.5mtpa
Coal Gas Plant
1.4 mtpa Rebar mill, world's largest
1.2 mtpa Plate mill.
810 MW CPP
Raigarh, 3.6 MTPA
2.125 mtpa Blast Furnace
1.32 mtpa DRI plant – world's largest coal based sponge iron manufacturing facility
3.6mtpa SMS based on NEOF technology
2.35 mtpa finished steel, capable of producing 10K ton every day
839 MW CPP
India's first Head Hardened Rail manufacturing facility (world's longest single piece upto 121m)
Patratu
Finished steel capacity of 1.6mtpa, including 1mtpa Bar Mill (BRM) & 0.6 mtpa Wire Rod Mill (WRM)
Produces Rebar, angles, plain rounds & RCS
Pellet Plant, Barbil
9mtpa – largest single location palletisation complex in India
Produces pellets for both BFs & DRI plants
Shadeed, Oman, 2 MTPA
1.5 mtpa HBI + 2 mtpa SMS, based on EAF + 1.4mtpa BRM
Marketing & Sales
80% of sales is domestic, 20% is exports
The Bar Mill caters to the robust demand for the Jindal Panther TMT Rebar range.
JSPL markets TMT bars under brand Jindal Panther. Total installed capacity of 3.8 MT covering Patratu, Oman & Angul. Network of 3200 dealers, 34 distributors & 310 Distributor ASOs.
Initiatives for B2C products include:
800 influencer meets to connect channel partners with influencers
15 plant tours for product education
Loyalty programs
Unique product range like Head Hardened Rails, which till now are being imported, can effectively address the rapid creation of Metro and high-speed trains which are key emphasis areas identified by the Government. Likewise, being the country's only private sector producer of rails, JSPL aim to participate in the exciting expansion plans of the Indian Railways. With a 1-MTPA of rail manufacturing capacity, JSPL can emerge as a reliable source of rail tracks in the country's railroad plans.
The Plate Mill at Angul has capability to produce plates upto 5-metre width. The plates produced at Angul are being used globally in critical applications like oil & gas pipelines, shipbuilding, pressure vessels and a plethora of industrial applications, where longevity and durability over decades of useful life is paramount.
JSPL's range of plates, beams and structural steel products can substitute the current imports substantially to contribute to the success of the 'Make-in-India' initiative.
Market share and competitors
In FY18 JSPL sold 3.78mt of steel in India. This is around 4% of domestic demand. In FY19, company intends to produce and sale around 6.5-7mt of steel in India, which if realised could take market share to 6.5-7%. 2018 domestic demand was 92mt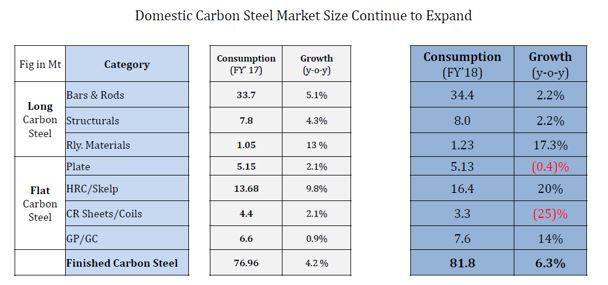 Competitors:
JSW Steel : 18mtpa + 1.5mtpa Monnet Ispat
Tata Steel : 13mtpa (including 3mtpa PI Kalinganagar plant) + 5mtpa Bhushan Steel + 5 mtpa under expansion for PII Kalinganagar plant . Tata Steel produced & sold 12mt+ in FY18 (Steel Insights, May P37)
SAIL : 14.38 mtpa
Essar Steel : 10 mtpa (currently under NCLT resolution proceedings)
RINL : 6.3mtpa (expected to reach 7mtpa by 2018)
Based on operational capacity, all major producers are operating at near optimal capacity (this excludes recent acquisitions through NCLT, which anyway will require some time for integration, & ongoing expansions)
JSW produced 16.27MT in FY18 against a capacity of 18mpta, and was operating at 101% in Q4.
Tata Steel produced and sold around 12MT in FY18, against an operational capacity of 13mtpa (ex. Bhushan & upcoming Kalinganagar P2)
SAIL produced 14.08MT against 14.38MT capacity & RINL produced around 5MT.
In contrast, JSPL has a total capacity of 8.6mtpa in India (+ 2mtpa in Oman) after commissioning of 5mtpa plant at Angul. JSPL produced 4.02MT in FY18 and has capacity to ramp up by more than 100% .
Plant locations
India Works Location
Raigarh Kharsia Road, Post Box No.1/6, Raigarh – 496 001, Chhattisgarh
Raipur 13 K M Stone, G E Road, Mandir Hasaud, Raipur – 492 001, Chhattisgarh
Patratu Balkudra, Patratu, District Ramgarh, Jharkhand – 829 143
Angul Plot No. 751, Near Panchpukhi Chhaka, Simplipada, Angul – 759 122, Odisha
Barbil Plot No. 507/365, Barbil-Joda Highway, Barbil – 758 035, Odisha
Punjipatra 201 to 204 Industrial Park SSD, Punjipatra, Raigarh – 496001, Chattisgarh
DCPP Dongamahua, Raigarh-496001, Chhattisgarh
Tensa TRB Iron Ore Mines, P. O. Tensa, Dist. Sundergarh – 700 042, Odisha
Corporate Structure
Company has 88 subsidiaries, 3 joint ventures, and 2 associates.
Key subsidiaries are:
Jindal Power Ltd (96%) in India
Shadeed Iron & Steel LLC in Oman
Jindal Mining SA (Pty) Ltd, SA. Operates coal mine. FY17 sale 203Cr, loss 14 Cr
JSPL Mozambique Minerals LDA, Mozambique, coal mine. FY17 sale 130 Cr, loss 2.5Cr
Wollongong Coal Ltd, Australia, coking coal. FY17 sale 181Cr, loss 290Cr
Overall, subsidiary contribution to P&L has been negative, with a collective annual erosion of around Rs 1250 crores for the past couple of years

Cash Flow Estimates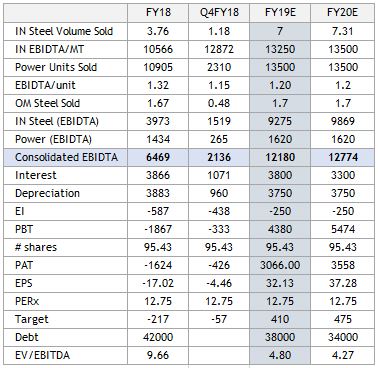 JSPL expects standalone operating costs at Angul to reduce by around Rs 2000 from current levels due to operating leverage and efficiencies.
Capex of around 1000 crores estimated in FY19. Around 500 Cr residual capex for Angul + 400 Cr maintenance capex
Around 4-5000 Cr additional debt reduction possible in FY19 (Math: Assuming, 8.75MT sale at 12500 rupees, EBIDTA = 11,000 Cr: minus, Bank payments ~ Rs 6000 Cr & 1000 Cr for capex = Rs 4000 Cr for debt repayments)
Financials

Debt & Liquidity
Net debt (consolidated) as on March, 2018 was around 42,000 crores.
During FY18, JSPL infused fresh equity of Rs 1893 crores, of which Rs 1200 crores was from successful QIP issue, and Rs 693 crores through issue of warrants to promoter group.
Around 4-5000 Cr additional debt reduction possible in FY19 (Math: Assuming, 8.75MT sale at 12500 rupees, EBIDTA = 11,000 Cr: minus, Bank payments ~ Rs 6000 Cr & 1000 Cr for capex = Rs 4000 Cr for debt repayments)
Promoter holdings & recent actions
Promoter holding is 58.66% as of March, 2018 – down from 61.96% previous quarter.
March 2018, JSPL raised Rs 1200 crore by share sell through QIP route at Rs 233 per share (5.85 above floor price) for WC & debt reduction.
Risk Analysis
Steel is a cyclical business, and net sale realisation is a function of demand and supply. China has a huge impact in shaping demand-supply dynamics at a global level. Chinese economy is decelerating, and any significant impact on demand in China may have negative effect globally. Similarly, supply from China is expected to reduce due to pollution cuts – any reversal to that may have negative impact to global steel supply as well. China continues to remain the biggest risk to upturn in steel cycle globally. Steel price trends needs to be continually monitored to assess change in demand-supply dynamics
JSPLs foreign mining assets has been a drag on performance historically. With the India operations getting stabilized, it is critical for the management to either develop or monetise these assets
Net debt as on March 2018 is around 42,000 crores. Interest coverage is roughly 1.67x as on March 2018, which is still very high and far from comfort levels. Management needs to continuously focus on deleveraging the balance sheet.
Fluctuation of raw material prices remains a risk. Coal is the key raw material to JPL's thermal power plants, and also a key ingredient for sponge iron making. Shortage in coal availability (and other key raw material like iron ore) is likely to have negative impact on profitability
JPL's PLF has to improve, from 31% in FY18 to atleast around 50% levels. Further, power exchange prices needs to remain at rational levels to permit reasonable spreads (atleast 1.15-1.2) for JPL and other IPPs
De-allocation of coal mines by Supreme Court and consequent litigations pending final verdict from a court pose a risk to the company depending on the outcome. Company has not made adjustments or provisions for possible negative outcome with the view that these adjustments will be made as and when the outcome is known.
One year historical price chart
Appendix
Prices of steel in various markets, source: Steel Insights, May 2018 edition